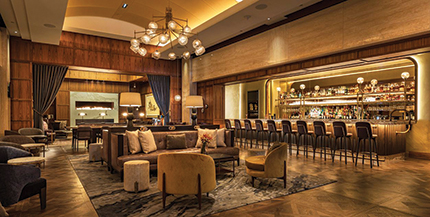 Boston, MA Construction is now complete at The Ritz-Carlton, Boston on the new Avery Bar. Corderman & Company provided construction management services on the project within this 5 Star hotel at 10 Avery St. across from the Boston Common and Public Garden parks.
The $3 million project, in collaboration with design and concept firm AvroKO and Darlow Christ Architects, features the new bar which is now framed by two screens at the entry, and by symmetrical drapery on its sides. The layout, with its central seating arrangement and showcase chandelier, is inspired by the configuration of the Boston Common. Intimate seating areas surround a central zone, where accents of color and special materials create a distinctive visitor experience. The new dark oak parquet floors and furnishings' dark wood tones are in contrast with the light marble tops.
Corderman's project team was comprised of: Principal and project manager David Dixon, assistant project manager Connor Benjamin, construction superintendent Jacob Bashein, and laborer Jorge Rivera.
Avery Bar blends a palette with modern ornamentation. Geometric shapes integrate with traditional forms for an approach that is both elevating and inventive. Embracing the heritage of the city and the Boston Brahmins, the design showcases a handcrafted golden bar tucked within wood framing. Avery Bar reflects materials present throughout the living room area.
This is one of numerous Boston lobbies that are either underway or recently completed by Corderman & Company including: 99 High, 855 Boylston St., 20-21 Custom House St., Rowes Wharf, 70 Federal St., The Pilot House, and 131 Dartmouth St.