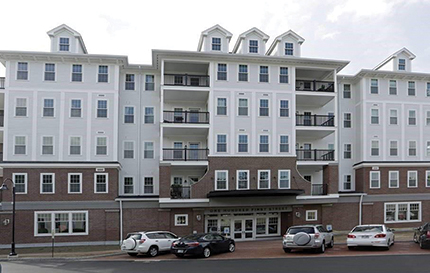 Dover, NH Fantini & Gorga has finallized the placement of two loans totaling $10.8 million for two separate properties. One new, 32-unit luxury apartment property with 9,000 s/f of retail along the Cocheco River, the other a truly mixed-use retail, office and apartment property.
Derek Coulombe, senior managing director and Lindsay Feig, director of Fantini & Gorga structured and placed the financing on behalf of the sponsor. Coulombe said, "We worked very hard to be able to structure and place this financing through the Covid epidemic and found ourselves amazed as the rates continued to drop. It provided the client some comfort that the lender locked rate at application and performed very well during the whole process."
Built in 2015, Riparia at One Hundred First St. is downtown, on the Cocheco River. The property consists of 32 market rate, mid-rise, luxury units. There is 9,000 s/f of commercial space on the first floor, which is currently occupied by three tenants; two Edward Jones Investment Company office spaces and one mortgage office space.
The Morrill Block is a building located on Second, Central Ave. and Third St. It was initially constructed in the late 1800s. Morrill Block houses 24 commercial units and 21 residential units. The lender was a large regional bank.