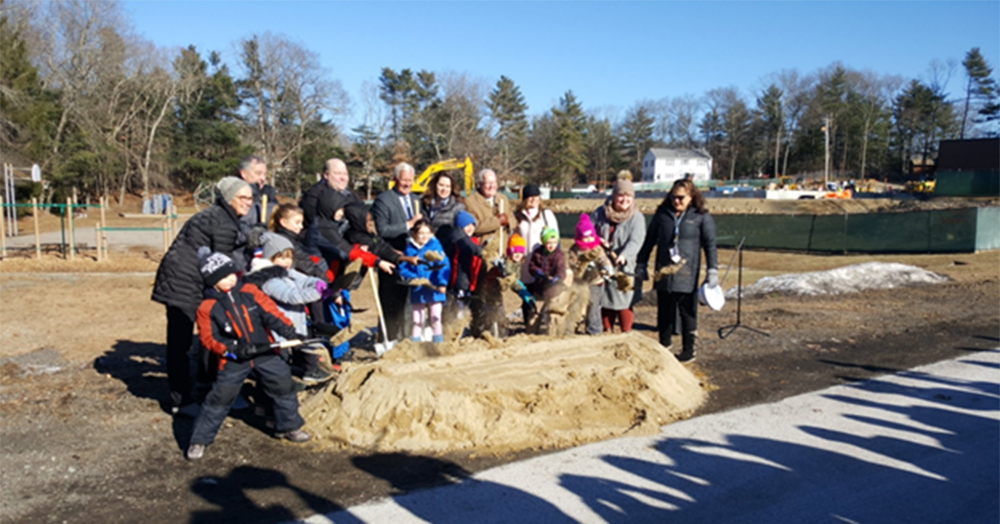 Foxborough, MA CTA Construction joined local officials, the Mass School Building Authority, school administrators, students and other members of the community to mark the official groundbreaking of the Burrell Elementary School renovation and expansion project.
The project, is scheduled to be completed in multiple phases by August 2021, will add a 6,000 s/f gymnasium and new pre-kindergarten wing to the existing building. The existing building will be fully renovated with significant upgrades including new windows, roofing and HVAC systems. New music and art spaces will be created where the school's old gym and auditorium are located, as well as a new computer lab and media center.
"The design for this project provides some real creative solutions for maximizing existing space while taking advantage of the expansion for state-of-the-art gym facilities and the pre-K wing," said Paul DuRoss, a principal at CTA Construction. "It's exciting to be working with the Town of Foxborough on this important project, which will enable more programming in critical areas of education and deliver a tremendous facility for generations of pupils to come."
The Massachusetts School Building Authority awarded a $14.7 million grant for renovation of the Burrell Elementary School. The balance of the total project budget – which is $25.9 million – will be covered by the city.