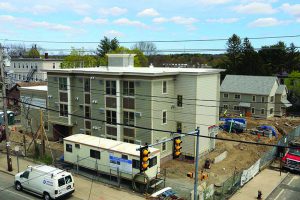 "Jack's Place" and "Patti's House", 695 North Main St. - Brockton, MA
Brockton, MA Father Bill's & MainSpring (FBMS) is completing construction on "Jack's Place" and "Patti's House", a new  development at 695 North Main St. With 20 efficiency-style apartments giving preference to formerly homeless veterans and disabled individuals, the $4 million project is named for the late Jack Conway, founder of Jack Conway & Company, Inc. Conway, along with his wife Patti, and other community leaders, was one of the founding members of the MainSpring House emergency shelter in Brockton in 1983. A Navy Veteran of World War II, Conway passed away in 2012.
"Jack always believed in helping others live their best lives and it's a gratifying feeling to be able to continue the work we were so involved with many years ago," said Patti Conway.
As is evidenced by Jack's Place and Patti's House, the properties border commercial and residential areas that had been left to neglect. The care taken to develop these properties is intended to enhance the neighborhood and be a catalyst for revitalization.  This particular site was a sloping parking lot between commercial and residential zones. Terracing of the site offers an effective transition between the 2 zones.
"It's not luxury by any means, but it is quality, cost-effective and energy-efficient housing. It changes the whole complexion of the street," said John Curtis, Curtis Construction, the general contractor for Jack's Place and Patti's House, among other projects for Father Bill's & MainSpring. The two properties, one more apartment-style, and one a residential duplex, illustrate what a public/private partnership can accomplish. This type of permanent housing for this population has become a model for Father Bill's & MainSpring, who own 400 units in southeastern Mass.
Jack's Place and Patti's House are designed to help to meet a critical need for affordable housing for individuals and families in Brockton, while alleviating the existing stressors on emergency shelters due to escalating homelessness in the region. Funded primarily by a $2.6 million award by the Mass. Department of Housing and Community Development, the project's remaining funding comes from private foundations and donor support, including a very generous lead gift from the Conway family. This project increases Father Bill's & MainSpring's owned veteran-specific housing by 25%.
Designed by Elton + Hampton Architects, the properties are fully accessible and incorporate many "green" elements that exceed energy codes.  Ready for occupancy in early summer, a ribbon-cutting ceremony and private viewing for donors was held on May 18 and 19.
Father Bill's Place of Quincy merged with MainSpring Coalition for the Homeless of Brockton in 2007.  It is an organization that is often misunderstood. While providing emergency shelter services, the focus has been on developing permanent supportive housing, helping individuals and families remain housed, and offering a connection to services that will help people achieve self-sufficiency. In fact, with this project, housing units in the FBMS portfolio outnumber shelter beds.
"We're grateful for the support of our team, all of those who came together to support our vision and our goals," says John Yazwinski, president and CEO of Father Bill's & MainSpring. "From the lenders through the design and construction team, their focus was to provide a quality development within our budget, and to sponsor our mission of enhancing the neighborhood in the process."