South Yarmouth, MA Located at 881 Rte. 28, Yarmouth Commons is one of Cape Cod's newest affordable housing communities. Dakota Partners, in collaboration with the Dept. of Housing and Community Development and the town of Yarmouth, completed construction of the $22 million development. Design was provided by Khalsa Design, Inc.
Featuring three residential buildings, a common green space, fitness center, leasing office, playground, and community center, Yarmouth Commons is near Rtes. 28 and 6. Two of the buildings are two stories in height, one with 19 residential units and the other with 20 units. The third residential building contains 30 units on three floors.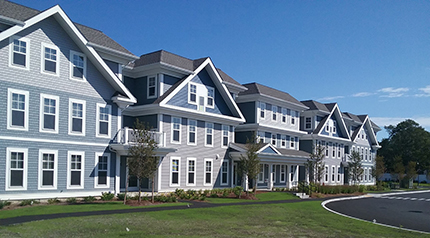 The apartments feature open concept floor plans, bedrooms, and kitchens with Energy Star appliances. Units also have a heat-recovery ventilator (HRV) unit that provides continuous fresh air while also enhancing energy efficiency.
In her visit to Yarmouth Commons over the summer, lieutenant governor, Karyn Polilto said of the development, "We very much appreciate the partnership with Dakota – and for their investment in this property that was underutilized as a former hotel in a very seasonal community. Like Dakota, we see housing as an economic development tool and we look forward to continuing to partner on other projects like this. This is a beautiful statement around what housing should look like."