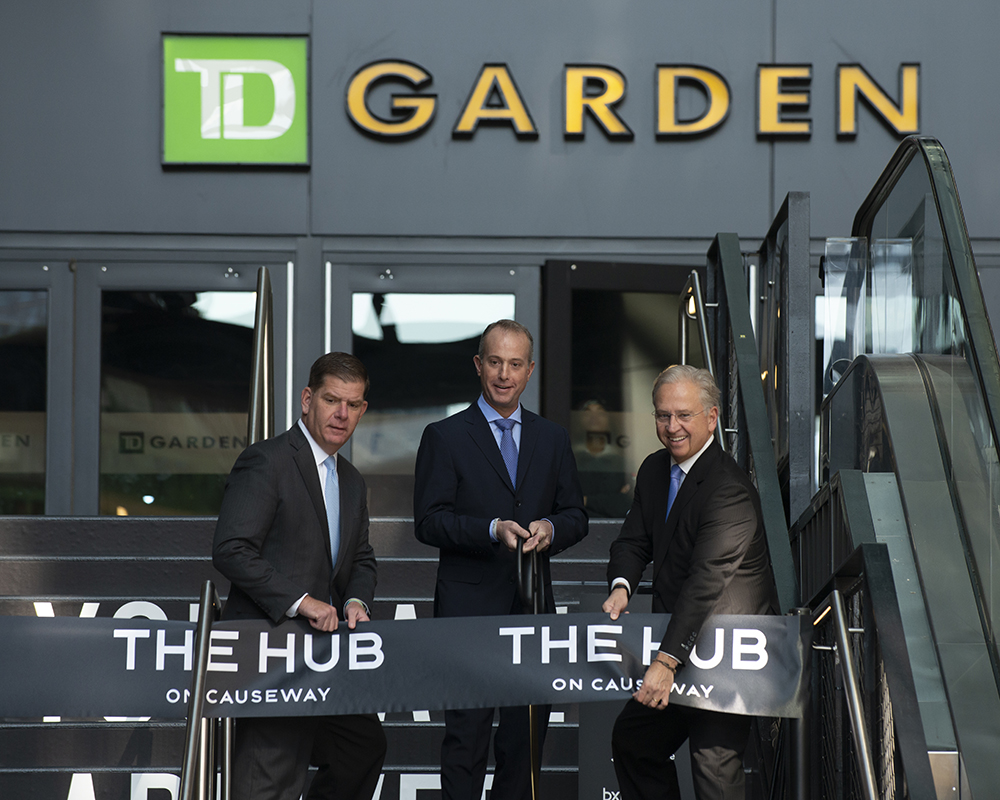 Boston, MA Mayor Martin Walsh joined the leadership of Delaware North and Boston Properties to celebrate the grand opening of The Hub On Causeway, a transformative transit-oriented development on the site of the former Boston Garden on Causeway St. Delaware North and Boston Properties formed a partnership to develop over 1.5 million s/f of mixed-use retail, office, hotel, residential and an expansion of TD Garden on the 2.5-acre site. This investment in development brings substantial improvements to North Station, transforms the area into a revitalized destination and provides major economic impact for the neighborhood.
The Hub On Causeway groundbreaking was in January 2016, and the project was constructed in three phases. Phase I and II are now complete, which includes:

• ArcLight Boston.
• Banners Kitchen & Tap.
• citizenM hotel.
• Big Night Live.
• Guy Fieri's Tequila Cocinat.
• Hub50House.
• Hub Hall.
• ProShop powered by '47.
• Star Market.
• TD Garden expansion - with an additional 64,000 s/f of expansion spaces on floors 3-9.
• TD Garden & North Station Entrance - Over 10,000 s/f of outdoor space serves as the new entrance.
• North Station Garage Expansion.
• North Station pedestrian connector tunnel.
• Creative office space - home to Rapid7's world headquarters.
"We are incredibly proud to open the second phase of The Hub On Causeway," said Charlie Jacobs, CEO of Delaware North's Boston Holdings. "What we see before us today is exactly the kind of transit-oriented development that we always envisioned for this area. I would like to thank all partners involved for their commitment to this project and I look forward to seeing the third and final phase through to the finish line."
"Boston Properties is proud to celebrate the opening of The Hub on Causeway, which has solidified this neighborhood as the entertainment and creative district for the City of Boston," said Bryan Koop, executive vice president for Boston Properties. "The Hub combines the best of Boston's sports, dining and live music as well as provides jobs and housing at the Northern gateway to the city. We are thankful for the City of Boston's continued support of our vision to create an urban village at The Hub."
"North Station and TD Garden are some of the most iconic places in Boston, and today marks an important milestone in completing The Hub on Causeway," said Mayor Martin J. Walsh. "I'm proud that the City of Boston is making powerful investments in this neighborhood, from Connect Historic Boston, to rebuilding the North Washington Street Bridge, to a new park on the north end of the Greenway. The Hub on Causeway is an anchor for investment and growth, and shows what we can accomplish when we work together."
Phase III consists of a 31-story office tower with approximately 630,000 s/f. It is expected to be completed in 2021. Verizon is the anchor tenant with 17 floors of office space.