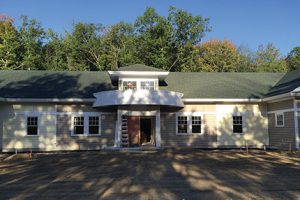 Amherst Medical Office for Southern N.H. Health - Amherst, NH
Amherst, NH Fulcrum Associates, Inc. is nearing completion of the construction of the 11,300 s/f Amherst Medical Office building for Southern New Hampshire Health at 8 Limbo Ln. The new building will accommodate medical offices for Amherst Family Practice, Immediate Care of Southern New Hampshire, and will also include lab and radiology services. Amherst Family practice will be relocating from their current location in the Meeting Place at 199 Rte. 101. The new location offers Amherst Family Practice and its patients an overall upgrade to its current office space and will provide increased efficiencies in the practice's operation to accommodate their expanded services to  meet the needs of the Amherst Community.. 
Fulcrum partnered with SNHHS over 2 years ago to conduct a site search of a specifically targeted area within close proximity to their existing practice. After evaluating the limited sites meeting some or most of the criteria, the Limbo lane site was selected for the new build. The new location affords great visibility from Rte. 101, is within eyesight of the current location and consist of ample acreage to support future development.    
The new single-story multi-gabled building is designed to complement the existing area architecture with a blend of traditional roof lines, clapboard siding, eave brackets and classic New England style trim detailing. The design encompasses architectural elements that have become trademark features of the SNHHS facilities, exemplified by the punctuated entrance.      
Dignard Architectural Services of Bedford, N.H. provided design services, while Allen & Major Associates of Manchester, N.H. provided civil engineering services for the project. Gary Manoogian is leading the project as project manager for Fulcrum, and Ralph Fair is the onsite superintendent. The site acquisition was brokered by NAI Norwood Group of Bedford, N.H. Other subcontractor partners on the project include Gate City Electric, Online Plumbing, CDB Mechanical and Windham Millwork. Visit their website at www.fulcrumnh.com to learn more about Fulcrum Associates and their 25-year project history.
Allen & Major in partnership with Fulcrum Associates, completed land survey, civil engineering and landscape architectural services for this project.  The project required two zoning variances in order to accommodate the building program.  The project was the first in town to file under the recently adopted Wetlands Conditional Use Permit and was successfully granted both site plan approval and conditional use permits.
The site development posed several significant challenges including steep grades, shallow ledge, wetland areas, restrictive zoning, and elevated water table. The steep grades, wetlands, and shallow ledge were mitigated by proper siting of the building and use of a small retaining wall.  Stormwater runoff was mitigated using an infiltration system located below the parking area.  Without access to town water and sewer, A&M designed an on-site subsurface sewage disposal system and an on-site well to handle the unique needs of a medical office.