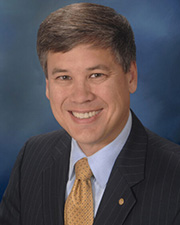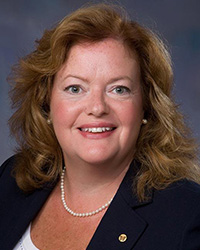 Westerly, RI The board of directors of Washington Trust Bancorp, Inc. said that Mark Gim will retire as president and chief operating officer, effective with the corporation's 2023 annual meeting of shareholders in April. The board also said that Gim was elected to the board of directors of Washington Trust Bancorp, Inc. and its subsidiary bank, The Washington Trust Co., effective immediately. Gim will serve on both boards until the 2023 annual meeting, at which time he will be subject to reelection by shareholders.
"I look forward to enjoying an active retirement with family, knowing I leave Washington Trust in the hands of a strong leadership team," said Gim. "It has been a privilege to have been part of Washington Trust and its tremendous growth and positive impact on the community during my 30-year career. I am very excited to continue to be involved in the corporation in my new role as member of the board."
Mary Noons, who currently serves as executive vice president, chief retail lending officer, was promoted to senior executive vice president, effective immediately, and will be appointed president and chief operating officer, upon Gim's retirement in April.
"Washington Trust's board is extremely grateful for Mark's contributions to our corporation and the community," said Kathleen McKeough, lead director of Washington Trust's board of directors.
"Mark's strategic vision enabled Washington Trust to successfully expand our market presence and earn recognition as one of the nation's 'Best Banks to Work For.' We look forward to Mark's continued contributions on our board and wish him well as he plans his retirement next year."
"Mark has been a dedicated Washington Trust employee and a key member of our leadership team for almost three decades," said Edward Handy III, Washington Trust chairman and chief executive officer. "During his tenure, Mark guided our strategic planning process and oversaw the successful growth and regional expansion of our retail, wealth management and mortgage divisions. It has truly been a pleasure to work with him over the years and I look forward to his continued guidance as a member of our board."
"Mary has played a key role in the Washington Trust's record mortgage origination, revenue growth and regional expansion, which has contributed significantly to the corporation's continued growth, profitability, and success," said Handy. "Mary is a proven leader and a strategic thinker with a passion for service excellence, process improvement, operational efficiency, and enhancing the customer experience. I look forward to working alongside her."
The corporation also is conducting an executive search to fill the chief retail lending officer position. "This is a critical role, and we plan to work diligently to identify a strong candidate with the background and skills necessary for the continued growth and success of our retail lending division," said Handy.
Washington Trust Bancorp, Inc. is the parent of The Washington Trust Co.