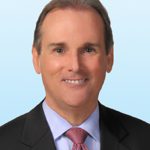 Colliers International | New Hampshire" width="150" height="150" /> Dan Scanlon,
Colliers International
| New Hamsphire
Over the past year, developers have been investing dollars in new construction projects in the greater Manchester market, and that is a solid indicator as to how the market is doing.
Ground-up Construction On Candia Rd. in Manchester, behind the Dunkin' Donuts, 105 apartment units are going up behind the store, on 10 acres.
Next to the Northeast Delta Dental Stadium, 150 class A residential units, in three buildings, are nearly complete at the Riverwalk Apartments.
The same developer received approval for a five story upscale apartment complex with 48 units off Queen City Ave. near the Sundial Center.
The Bluebird Self Storage on Queen City Ave. is near completion and will have 750 climate controlled units.
A 106-room Tru by Hilton will be built on a portion of the Bedford St. parking lot, with about 8,500 s/f of street level retail on Commercial St.
A 145-room Residence Inn by Marriott will be built in a parking lot across from the SNHU Arena (formerly the Verizon Wireless Arena) on Lake Ave.
In Londonderry, a 240-unit apartment complex called Wallace Farm is being built on a 25-acre site at exit 5 off I-93. About half of the units will be affordable housing.
The Townhomes at Whittemore Place opened phase 1 this past year with 45 units of affordable housing built by Neighborworks Southern NH, with more units to come in phase 2.
The Grand Estates at Londonderry is a Calamar project, with 110 independent senior living units on 13 acres.
Right in front of that is All American Assisted Living, with 58 units for the 55+ market.
There has been some new self storage in this town as well, with the construction of Uncle Bob's, a 59,000 s/f facility on land that was vacant for many years.
Two more projects will join FedEx, Pratt Whitney, and Milton CAT in the Pettengill Rd. area. F.W. Webb is building a 1 million s/f distribution facility and EFI, a global ink jet manufacturer that will bring 400 jobs to town, will be building a 240,000 s/f facility.
Bedford has also seen its share of new ground-up projects, including the Meetinghouse Apartments on Kensington Lane. This 41-unit workforce housing complex will be a tax-credit project.
Calamar built another facility in Bedford called Maple Ridge Estates, consisting of 110 independent living units.
Bedford also got a Bluebird Self Storage facility, currently under construction on South River Rd. near the new airport access road interchange, which will consist of 700 units.
The old Wayfarer Hotel site made way for the first Whole Foods store in the greater Manchester market. The site is also home to the Provident Bank, and will include retail, restaurants, and apartments in the future.
The owner of the Bedford Village Inn completed The Grand at Bedford Village Inn, a 50-room boutique hotel right next door.
Adaptive Re-uses I find these to be very interesting, in that old properties find new life, generally with totally unrelated users.
The former Lowe's on Huse Rd. in Manchester is now known as Center View Plaza. Its first new tenant will be Chunky's Cinema, which is under construction. There is room in the plaza for other retail tenants.
The former Associated Grocers distribution building on Gold St. was torn down and has become the new home of Walmart.
Walmart's former home on Keller St. will be the new home of CarMax. Again, the building will be torn down, but it still represents an adaptive re-use of a site.
The Sundial Center on Queen City Ave. was formerly known as the Hesser Center reflecting the name of the college that was located there. Hesser is now history, and left behind were a few floors of dorm space, which have been converted to 87 apartments.
The former Citizens Bank building on Elm St. was converted to 91 apartment units and street level retail. The parking garage attached to the building makes it a highly attractive property in the CBD.
Manchester's first "micro" apartments are located in The Flats on Hanover, a 32-unit project in the building that formerly housed the Farnum Center.
Finally, the Union Leader building is getting new life with various tenants, including the Mill Falls Charter School and Eagle Warehousing and Storage.
Mixed Use Projects This list reflects a growing trend toward large scale mixed use projects that offer the "live, work, play" potential we often hear about.
The largest of these is Woodmont Commons in Londonderry, which will be situated on 629 acres. Essentially a village within a town, it will likely be built out over a generation. Phase 1, consisting of 62 acres, will include residential, retail, office, hotel, restaurant, and entertainment uses. The project will eventually house roughly 3,000 new residents.
The next largest is Tuscan Village in Salem, being developed by the owner of the Tuscan Village Restaurant on the site of the former Rockingham Park. Approvals have been granted for the first 50-acre phase, with another 120 acres to go. This project will include apartments, hotels, office space, retail, movie theatre, and supermarket.
Gateway Park is a 32-acre project in Windham at exit 3. Office, retail, residential, medical, and restaurants are projected.
In Bedford, the former Macy's site is being developed into Market & Main, again with office, retail, cinema, restaurant, medical, and hotel uses.
Developers are not just talking about projects; they are investing their dollars!
Dan Scanlon, senior associate for Colliers International | New Hampshire, Manchester, N.H.