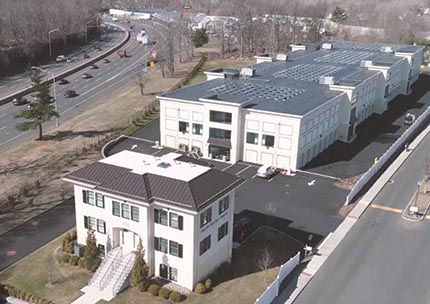 Darien, CT Fantini & Gorga arranged a $17.25 million refinancing package for Hollow Tree Self Storage at 131 Hollow Tree Ridge Rd.
Casimir Groblewski placed the loan with a major New England-based banking institution on behalf of his client. Affordable Self Storage, Inc., an experienced storage development and management partnership based in Conn.
Darien is located on Connecticut's "Gold Coast" about 37 miles northeast of NYC. Primarily a residential community, the town requires high standards for any new commercial development.
The borrowers purchased a 3.6-acre site on Hollow Tree Ridge Rd. abutting I-95 in 2016, and after extensive negotiations with the town, received approvals to construct the subject.
Hollow Tree Self Storage is the only facility of its kind in the town, and it offers almost 900 units and 83,595 s/f of rentable area on three levels. Renters can choose from direct and interior storage, as well as outside vehicle storage. Hollow Tree Self Storage is in an excellent position to reach fully stabilized operations later this year.
Groblewski said, "I was pleased to secure a loan package that met all of my clients' expectations. In addition to retiring all their debt, the borrowers have a long-term, fixed-rate loan with a period of interest only, and will be able to build out a fine wine storage room, giving them a unique advantage in the marketplace. In addition, they can recapture some of their equity."
According to Groblewski, "we worked with one of our go-to regional lending institutions, and it delivered a smooth closing, great rate and excellent terms."