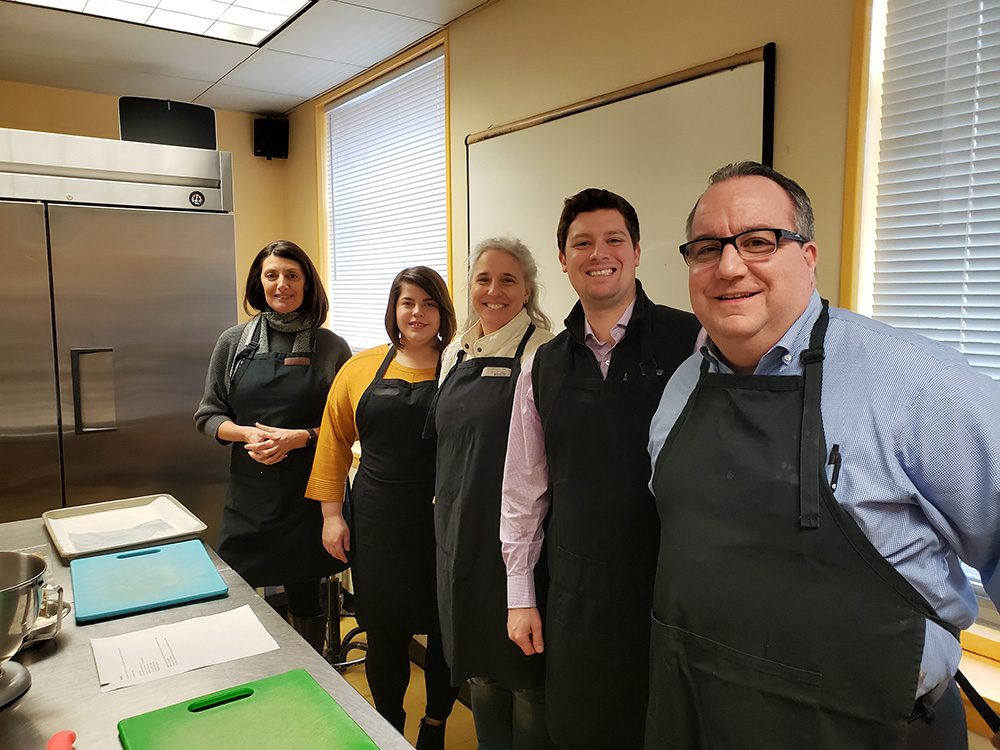 Newton, MA For this year's IFMA Boston Leadership Summit the group convened at Create a Cook in Newton to partake in some healthy team building competition. The group divided into two teams and each was tasked with creating a homemade pasta and sauce, salad, garlic bread and cannoli to wow the judges. They could use any ingredients they found within the kitchen.
The group consisted of Andrew DelPrete of Liberty Mutual, Jennessa Durrani of IFMA Boston, John Fantasia of ReStream, Chris Pestana of Fort Point Project Management, Dawn Border of Facilities PM, Ashley White of Babson College, Sandra Gucciardi of STV|DPM, Glenn Gould of Cannistraro, Joy Shapiro of Dacon, Tom Hammill of William B Meyer, Irene Lee of STV|DPM, Angela Rothemich-D'Amato, Stacy Hamel of Structure Tone, Adele Manty of Fooda and Tom Palange of Valmet.
The groups pitted their two Italians off in the pasta department with Adele and Angela bringing forth a delectable carbonara sauce over linguini and Sandra and Ashley tackling homemade raviolis with marinara. While team carbonara did win by 1 point overall, everyone felt like winners as they shared a big meal of all of their hard work, which was delicious.
What an incredibly fun, entertaining, and bonding experience it was with lots of stories to tell.