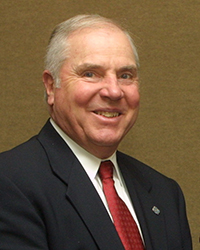 Hanover, MA John A. Penney, founder and chairman of John A. Penney Company, Inc., and a member of the National Electrical Contractors Association (NECA) and the electrical contracting industry in Greater Boston, passed away on October 31, 2019.
Penney entered the electrical industry in 1955 as an apprentice in the IBEW Local 103 apprenticeship program. He went on to become a Master Electrician, foreman, estimator, and project manager, prior to founding John A. Penney Company, Inc. in 1973, when he also joined the NECA Boston Chapter. Penney was among the Boston Chapter's most dedicated and active members, having served on the board of directors for 31 years, making him the association's longest serving member. He twice served as President of the Chapter – in 1990-1991 and 2000-2001, and also as Governor – in 1992-1993 and 2002-2003.
Penney's commitment and contributions to positive labor-management relations in Greater Boston, New Hampshire and Maine is unsurpassed, having served on and chaired dozens of negotiating committees with IBEW Locals 103, 567, and 1253. He also served as management trustee on the IBEW Local 103 Trust Funds, and as chairman of the Boston JATC.
Under his leadership, John A. Penney Company is among the most prolific electrical construction companies in the Northeast. The company has served as the primary electrical contractor on such major residential, biotech, commercial and institutional projects as Hub on Causeway, The Pierce, Watermark in the Seaport, Novartis in Cambridge, Alexandria/Bristol Myers Squibb on Binney St. in Cambridge, 111 Huntington, Liberty Mutual, and the Isabella Gardner Museum.
Penney was honored for his contributions to the industry with induction into NECA's Academy of Electrical Contracting in 2000. On a national level, he served on NECA's Resolutions Committee, Council on Industrial Relations from 2003-2005, ELECTRI Council, and the Academy Jury of Fellows.
"John's distinguished contributions to NECA and our region's union electrical industry have been key to the success and growth of both our organization and industry," said NECA Boston executive manager Glenn Kingsbury. "He was one of NECA's most dedicated and active members. John's friendship, goodwill and vision will be missed and long remembered by all of his colleagues."
Penney was also very active in the Greater Boston community, having held leadership positions with the Cambridge YMCA, the Rotary Club of Cambridge, the Cambridge Chamber of Commerce, Mt. Auburn Hospital, and East Cambridge Savings Bank. He also was a veteran of the U.S. Naval Reserves and served in active duty as an aviation electronic technician during the Cuban Missile Crisis.
Penney was the devoted husband of Margaret Walsh Penney, and father of Richard Penney, Donna MacKinnon, Gina MacDonald and Alicia Penney.
Calling hours are Sunday, November 3rd from 3PM to 7PM at the Sullivan Funeral Home, 551 Washington St., Rte. 53 in Hanover. A funeral mass will be celebrated Monday, November 4th, 2019 at 10AM at St. Mary of the Sacred Heart, 392 Hanover St., Rte. 139 in Hanover.