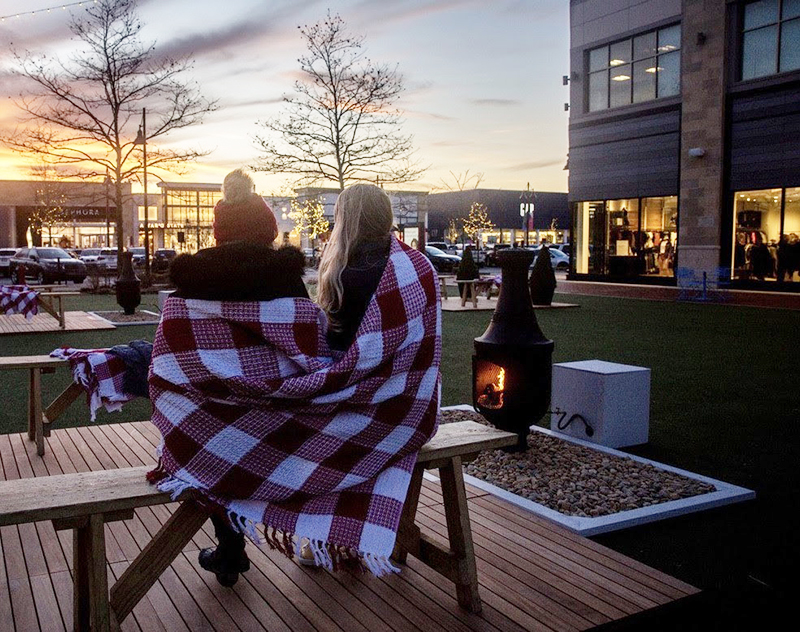 Lynnfield, MA With the holidays upon us, MarketStreet Lynnfield transforms into a winter wonderland of inspiration with new locally-owned businesses, festive entertainment, shopping amenities and several holiday moments that are sure to warm spirits. Shoppers, holiday revelers and area residents will be greeted by a beautifully illuminated "BELIEVE" sign at MarketStreet Lynnfield's front entrance – a gentle reminder to believe in many of the things we all hold close to the heart, be it that all things are possible, that kindness matters or simply that the holiday season still brings magic. Making use of its ample outdoor space, MarketStreet Lynnfield has also activated various areas throughout the property, allowing guests to relax and enjoy time outdoors with loved ones as they check off their holiday to-do's. Shoppers can warm up at a newly transformed green space featuring six safely distanced cast iron chimenea gas fire pits and surrounding benches, as well as enjoy two glowing, 35-foot holiday trees. Joining in all of this seasonal fun are three new stores to shop at, including home décor and furniture shop, Mill 77 Exchange, a new, locally owned candy and chocolate shop, The Candy Dish, and North Shore women's fashion boutique, Style Snoop.
Adding to its festive, community-centric offerings, MarketStreet Lynnfield introduces a fun and engaging Seeing Is Believing holiday scavenger hunt; with this family friendly activity, participants are tasked to find 10 holiday icons (in the form of small window vinyls) throughout the property and match them with a Seeing Is Believing scavenger hunt activity card, available for pickup at MarketStreet Lynnfield's Little Free Library. Once cards are completed, they can then be dropped in an onsite "Merry Mailbox." MarketStreet Lynnfield will mail each successful participant a festive thank you note and will donate $1 per completed card to The Home For Little Wanderers, Massachusetts' beloved non-profit child and family service agency. The Seeing Is Believing scavenger hunt will run from Friday, November 27 through New Year's Eve.
As an added resource to shopping at MarketStreet Lynnfield this holiday season, the property introduces its own online Holiday Gift Guide available on its website. The guide features recommended gift ideas for this season. MarketStreet Lynnfield will also display QR codes on signage throughout the property so that shoppers can walk right up to the sign, scan the code and browse through a number of gift idea options sold at select retailers.
MarketStreet Lynnfield further enhances its holiday offerings this season with festive wreaths adorning the necks of the Hilltop Cows in Market Sq., free gift wrapping stations available on select Saturdays.
holiday photo moments throughout the property, and seasonal sales at various retail stores. On special days, guests seated on the wooden benches around the chimenea gas fire pits will be treated to branded one-time use blankets to cozy up with.
"From shopping for a loved one at one of our beloved retailers, to warming up next to one of our new chimenea fire pits, to participating in our holiday scavenger hunt, we are thrilled to be able to add joy to people's lives this holiday season. At MarketStreet Lynnfield, we're focusing on providing wonderful moments for our community and beyond," says Charlotte Woods, General Manager of MarketStreet Lynnfield.
With guest and staff safety at the forefront of its priorities, MarketStreet Lynnfield continues to abide by all government safety regulations and uphold all sanitization practices. To promote social distancing, visitors and employees are encouraged and reminded to remain six feet apart by way of helpful signage, and MarketStreet Lynnfield has adjusted communal spaces and furniture configuration throughout the property.