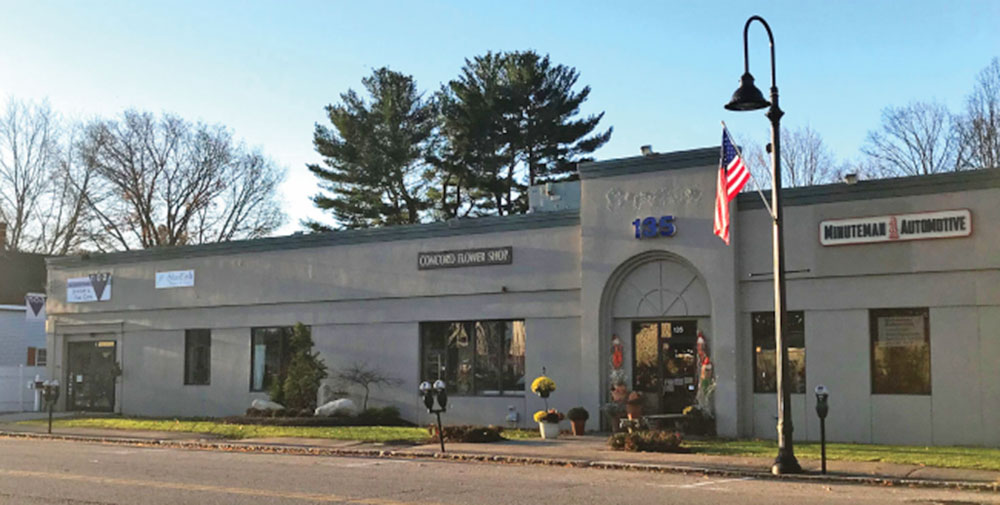 Concord, MA McLaughlin Investments facilitated the IRC 1031 Exchange sale of 135 Commonwealth Ave., to Anton Realty Trust II, for $2.125 million.
The mixed-use, 11,000 s/f, value add, retail asset was 100% occupied at the time of acquisition within the street level retail area and second floor office. All leases where substantially under market with short term lease roll overs, allowing for a planned redevelopment, add-value play.
West Concord Village has evolved into a "Street Smart" environment due to recent municipal zoning changes which include the West Concord Village Overlay District, intended to create a work, live and play social environment. Furthermore, the area is a desirable regional submarket into itself, accessible by The MBTA West Concord Commuter Train Stop, The Minute Man Bike Path, major roadways such as Rtes. 2, 2A, 62, 128 and I-495, and suburban arteries allowing access to retailers, service providers and medical facilities including but not limited to; Emerson Hospital, Brookside Sq., Woods Hill Table, Papa Razzi Trattoria, The 99 Restaurant, Debra Natural Gourmet, TD Bank, BOA, Nashoba Brook Bakery, Saltbox Kitchen, USPS, Residence Inn and numerous other specialty retailers.
The local retail and service market draws from the Minute Man National Historic Park tourism, nearby Walden Pond visitors, Rte. 128/495, Rte. 2 corridor and, in particular, Concord Proper, Lincoln, Lexington, Carlisle and Acton.
John McLaughlin represented both the Anton Realty Trust II, the IRC 1031 Exchange buyer, and the off market seller, LeBaron Realty Trust. McLaughlin, acting as seller, buyer broker and consultant, sourced LeBarron Trust, the off-market seller, who agreed to allow McLaughlin adequate time to facilitate Anton Realty Trust II, the 1031 buyer acquisition.
Furthermore, McLaughlin negotiated LOI and PSA, assisted both seller and buyer with due diligence investigation and property metric matters, including but not limited to; dcf's, valuation models, tenant interviews and credit review, lease audit, property management and vendor interviews, comprehensive physical inspections (PCA), CAM, lessee chargebacks, operating-financial statements, 21e environmental, development repositioning meetings with, municipal authorities; building, planning, conservation, engineering, sewer, fire safety, and signage, capital budgets, debt finance, title, easements, curb cuts, alta survey, drive-through capabilities, site far and redevelopment options, estoppels, utility services verifications, occupancy permits, code compliance, service contracts, 1031 intermediary, lease up budgets, ti's budgets, closing costs, market reports related to competitive leasing and sales comps among others.