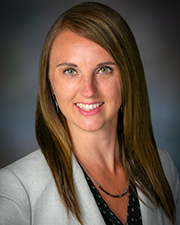 Essex, CT According to Diane Arnold, president and CEO of Essex Savings Bank, Hilary Mondelci, assistant vice president, loan administration manager and assistant corporate secretary, was selected as 2023 New Leaders in Banking Award recipients. This honor was presented to 14 individuals out of dozens of nominees from banks across Connecticut by the Connecticut Bankers Association at an award ceremony that occurred in January. To qualify, the recipients needed to be an outstanding employee, manager, or business leader and make a notable impact within their financial institution and community.
"During the first two years of the COVID pandemic, Hilary implemented and managed all operational aspects of the Federal Government's PPP program as well as the forbearance program for customers during their time of need. This was coupled with record residential loan volume and a newly created hybrid or remote work model. She handled a tremendous workload while keeping employee morale positive during these uncertain and stressful times," said Arnold.
Mondelci is a graduate of the Connecticut School of Finance and Management and received her undergraduate degree in Business Administration at Post University. She joined Essex Savings Bank as a teller in June 2011. Since that time, she has worked her way through the entire loan administration department, from loan servicing, to commercial administration, to ultimately managing the entire department which is comprised of ten employees.