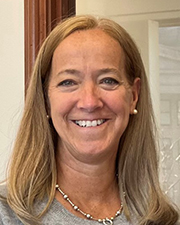 Newton, MA According to Affordable Housing and Services Collaborative, Inc. (AHSC), a nonprofit organization that owns and develops affordable rental communities, Rosario Montero has joined the company as asset manager.
Her responsibilities in this newly-created position include protecting and enhancing the value and cash flow of the properties, monitoring the physical condition of the organization's portfolio, reviewing and analyzing monthly reports and financial statements, ensuring that lenders and investors receive reports in a timely manner, reviewing operations with property managers and developing action plans, and participating in the budget process for each property.
Previously, Montero served for the last 17 years as vice president at Charter Capital Management, Inc., a Boston-based real estate investment company that invests in U.S. real estate primarily for shareholders in the Middle East. In this role she directed asset management activities for a portfolio of properties along the eastern United States, mainly comprised of apartments and office properties. Prior to this experience, Montero worked in the real estate department of United Gulf Management, Inc., a U.S. subsidiary of KIPCO, a publicly traded Kuwaiti investment company.
Originally from Uruguay, Montero holds a bachelor of science in business administration degree from Emmanuel College. She is bilingual.
"We are very excited to welcome Rosario to our team, and to serve as our first asset manager," said Michael Mattos, president and executive director of AHSC. "Her strong track record of acquiring, developing, repositioning, managing and selling real estate properties is a great resource for our organization."