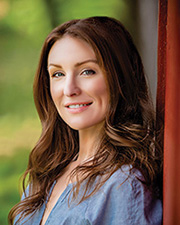 East Greenwich, RI Berkshire Hathaway HomeServices (BHHS) Commonwealth Real Estate appointed Courtney Morrison to the position of sales associate.
Morrison joins a growing and experienced team of professionals in the company's Main St. office. Prior to her appointment by BHHS Commonwealth, she was a sales associate with another Rhode Island based real estate brokerage. Before entering the real estate industry, Morrison was a business manager for several organizations in the moving and health related industries.
A graduate of Edmonds Community College based outside of Seattle, Morrison's prior business experience has assisted in the development of exceptional communication and customer service skills. She holds active real estate licenses in Rhode Island and Connecticut and is a member of the Kent Washington Association of Realtors. Her focus will be in the residential and luxury real estate markets.
"Berkshire Hathaway HomeServices Commonwealth Real Estate's focus on the customer and the goal to provide the best products and services for its sales professionals are what make Berkshire Hathaway HomeServices Commonwealth Real Estate the best fit for me," said Morrison.
Bob Leighton, sales manager of Berkshire Hathaway HomeServices Commonwealth Real Estate's East Greenwich office, said, "We are delighted to welcome Courtney to our growing Rhode Island team. She is a very dynamic professional who is focused on delivering exceptional service and results to her clients."