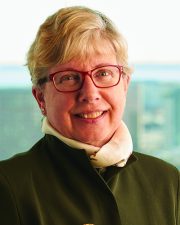 Boston, MA According to Boston-based law firm Krokidas & Bluestein LLP, partner Kathryn Cochrane Murphy received the 2017 CREW Boston Achievement Award for Networking for her strategic role in the development of One Greenway, a 312-unit residential project in Chinatown, on behalf of her clients Boston Private Bank and Trust Company and the Massachusetts Housing Partnership Fund Board.
Developed by a joint venture of New Boston Fund and Asian Community Development Corp., One Greenway occupies a beacon location at the terminus of the Rose Kennedy Greenway at the corner of Kneeland and Hudson Sts. It includes Chinatown's largest green space at 13,000 s/f, commercial tenants enlivening the ground floor, and will soon be home to a new Boston Chinatown Neighborhood Center facility.
"I am honored to have been a part of the talented group of professional women who helped make the One Greenway Project a reality," said Murphy. "It took a strong group of public and private partners to move the project from financing and permitting through execution as we worked to achieve the vision of an engaging, thoughtfully-designed property in the heart of Chinatown."
One Greenway comprises phase I of what will be a two-phased project where at least 40% of the units will be affordable housing – One Greenway has 99 units of rental housing affordable to families with incomes of up to 60% of the AMI, while phase II of the Parcel 24 project will comprise 51 units of affordable condominiums.
One Greenway also has 213 units of market-rate housing which in effect, has cross-subsidized the creation of the affordable housing.
Murphy's practice includes representing developers, business and non-profit owners, governmental agencies and institutional lenders in acquisitions, dispositions, permitting, financings, design and construction contracts, procurement matters, leasing, ground leases, and condominium matters. She represents banks and other lenders in connection with construction and permanent financings and has handled foreclosures, workouts and note purchases and sales for a national bank.
CREW Boston's Achievement Awards bring together individuals from the Greater Boston real estate community to celebrate the professional achievements and public service contributions of some of the organization's most accomplished members. Murphy is joined by Rebecca A. Lee, Esq., Eliza Datta, Judy Jacobson, Janet Carlson, Esq., Amy Prange, and Heather Campisano, who all played a role in the One Greenway project to make it possible and share in receiving the Networking Award.
Krokidas & Bluestein provides legal services in the areas of non-profit corporate and tax and for-profit corporate law, health and human services law, real estate development and finance, property management, civil litigation, labor and employment law, public law and education law.