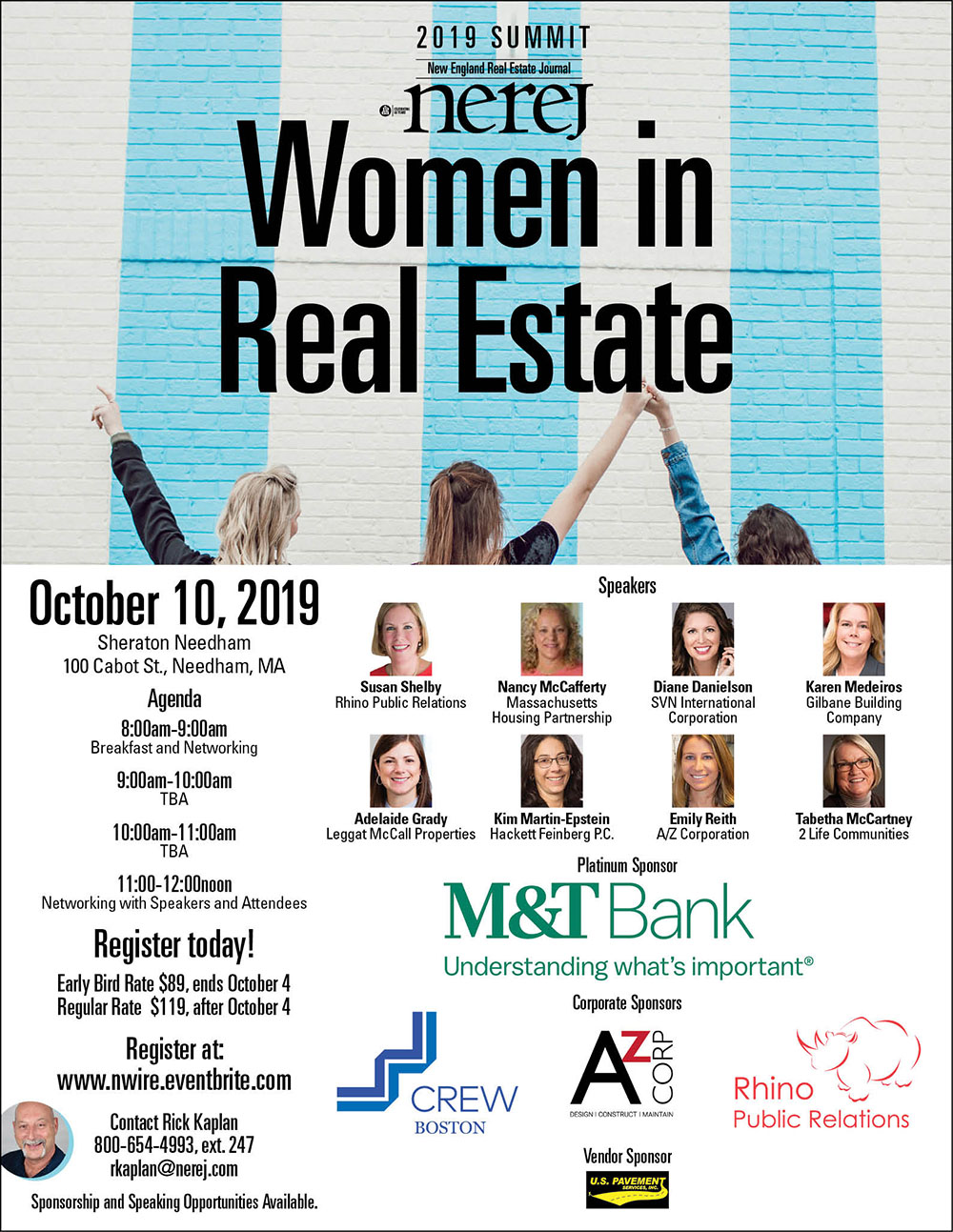 Needham, MA The New England Real Estate Journal (NEREJ), will host the Women in Real Estate on October 10th at the Sheraton Needham, 100 Cabot St. To attend please register at: http://www.nwire.eventbrite.com. Tickets cost $119. Come and meet old friends, create new contacts, or learn something new during discussions from women in the real estate industry.
Enjoy networking and a buffet breakfast from 8 – 9 a.m.
The first panel will be held from 9 – 10 a.m. and topics include: Changing the affordable housing paradigm; a conversation about sustainability, healthy living and smart growth. Speakers include: Moderator: Adelaide Grady of Leggat McCall Properties; Tabetha McCartney of 2Life Communities; Kimberly Martin-Epstein of Hackett Feinberg P.C.; and Nancy McCafferty of MHP.
The second panel will be held from 10 – 11 a.m. and topics include: Thoughts on women in CRE. Speakers include: Moderator: Susan Shelby of Rhino Public Relations; Karen Medeiros of Gilbane; Diane Danielson of SVN; and Emily Reith of A/Z Corp.
Sponsors include:
• Platinum Sponsor: M&T Bank;
• Corporate Sponsors: A/Z Corporation; CREW Boston; and Rhino Public Relations; and
• Vendor Sponsor: U.S. Pavement Services, Inc.
Contact Rick Kaplan at [email protected] or 781-878-4540 x247 for more information.