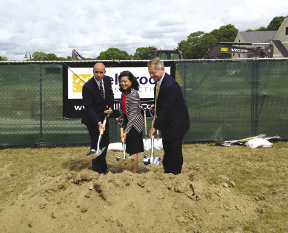 Shown (from left) are: Kirk Sykes, president of Urban Strategy America Fund; Cherie Santos-Wuest, principal investment officer for Real Estate for the Connecticut Retirement, Pension and Trust Funds; and East Lyme first selectman Paul Formica
NIANTIC, CT New Boston Fund, Inc., a private equity real estate investment, development and management firm, has broken ground on the next phase of development at Seaside Village. The entire Seaside Village community will include 118 residences once all phases of construction are complete. Thirty percent of the homes are affordable.
"Seaside Village is a vibrant and growing community that attracts a diverse demographic of people," said Gary Hofstetter, senior vice president at New Boston Fund. "We are excited to meet the growing demand with 45 new homes that offer new design options."
Once complete, Village Center will consist of 41 townhome-style units with seven different floor designs ranging from 924 - 1,304 s/f. Four additional units are also under construction. This phase is already 30 percent pre-sold and will be ready for occupancy in April 2015.
In May 2009, New Boston Fund completed the construction of Phase I, which included 53 total units: 17 townhomes clustered in three buildings and 36 flats located in one signature three-story building at the front of the property. New Boston's success at Seaside Village continued into Phase II, which included 12 new townhome styled units.
Seaside Village is being developed by New Boston Fund's Urban Strategy America Fund, a triple-bottom line fund that executes on the promise of generating solid returns to investors, spurring economic development and workforce housing, and promoting environmental sustainability.
Dellbrook Construction is the general contractor for this project, and The Architectural Team is the architect. The project cost for this phase is $10 million.