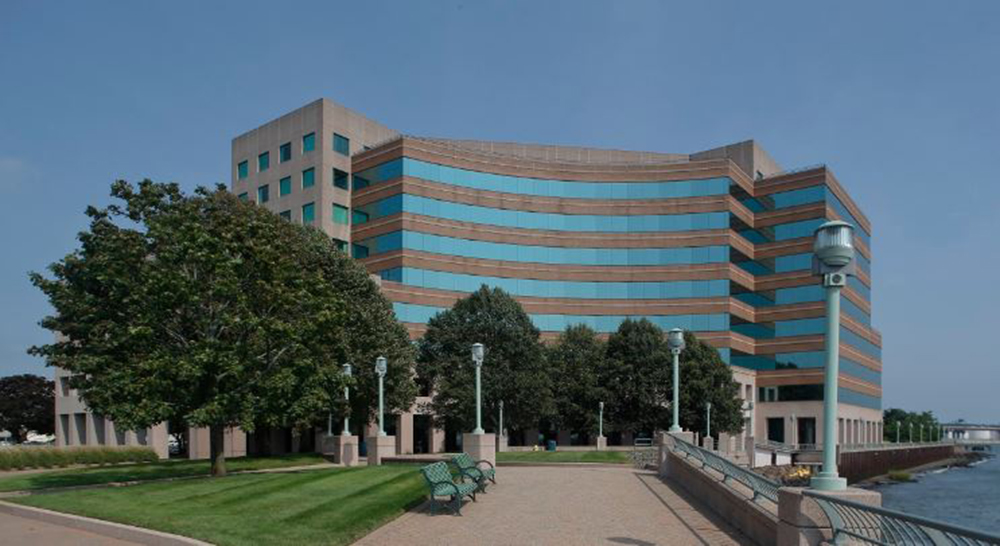 New Haven, CT Newmark Knight Frank (NKF) completed the sale of 545 Long Wharf Dr. for $12.2 million. NKF's executive managing directors Steven Schultz and Cory Gubner, managing director Tony Georgiev and director Alex Haendler represented the seller. The asset was auctioned on RealINSIGHT Marketplace, an online platform for commercial real estate transactions.
545 Long Wharf is a nine-story, 245,389 s/f class A office building with views of the Long Island Sound. The building was previously AT&T's corporate office and is currently partially leased to a range of office tenants.
RealINSIGHT Marketplace and NKF developed a local and national marketing plan that centered around the asset's position as a high-quality office building. Using digital, print and interactive mediums, the team focused on the upside potential in a market with a scarcity of large blocks of space. The custom marketing approach attracted 15 registered bidders from across the United States and Canada, who competed in the live bidding process, ultimately leading to the successful sale of the asset for 110% of appraised value. The buyer was Vision Real Estate Partners, who purchased the building along with The Knights of Columbus.
"545 Long Wharf Drive presented a great opportunity for Vision," said Schultz. "This property is a rare asset with waterfront views, and access to New Haven has a vibrant culture and substantial transportation infrastructure."
"This is a truly dynamic area that has seen tremendous growth in recent years," said David Bortnick of RealINSIGHT. "The partnership between NKF and the Marketplace platform proved powerful, delivering robust results for our client."
"New Haven is a compelling market as it continues to evolve it's growing tech, health care, and life sciences industries–creating a more diverse economy," said Gubner.
"The class A office vacancy rates are low in the downtown area, and the overall office market is showing signs of momentum. The city has truly become a leader in Connecticut's start-up culture thanks to its proximity to transit and appeal for young, innovative talent from nearby institutions of higher education."