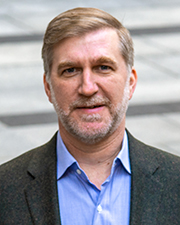 Boston, MA Klopfer Martin Design Group (KMDG) has hired Daniel Norman as senior associate. With a complementary portfolio of work, he will help expand KMDG's presence in New England. His joining the firm adds a further degree of senior-level design talent to the team benefiting the firm's clients. "Daniel's work experience with landscape architecture and urban planning, along with his desire to explore the role of our profession in tackling resiliency issues, is a natural fit for our team," said Kaki Martin, FASLA.
"My partner Mark and I are excited to see his contributions to KMDG."
Norman has enjoyed a 17 year career working on several high-profile projects, including the Carolyn Lynch Garden on The Rose Fitzgerald Kennedy Greenway and Audubon Circle in Boston. He believes the profession is in a unique position right now to bring awareness to current challenges, including climate change and social justice, and enact real change to help combat them. He attributes this to the close working relationships he's developed with environmental scientists and others that are rethinking common approaches to green space. He is currently working on projects at The Park School in Brookline, MA and Connecticut College in New London, CT.