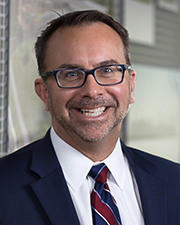 Year you entered your current field? 1984
What do you consider to be your greatest professional accomplishment in the past 12 months? Over the past year we have worked with two international companies on local projects. We completed two office and manufacturing facilities in Beverly – 100,000 s/f for KROHNE (German) and 98,000 s/f for Harmonic Dr. (Japanese). It's been very interesting to experience these distinctly different business cultures and their approach towards the design and construction of projects. Of course, other countries have different construction standards, so it was part of our job to integrate our clients' requirements and program needs while complying with Massachusetts' building codes.
What advice can you offer to someone who is interested in a career in your industry? The best advice I could give is to get a good education in engineering, and then work in construction to get field experience on an actual project. An engineering degree teaches you how to think, but the hands-on experience is as just important to be effective in this profession. I started at the bottom to get to where I am today – learned the basics and gained as much knowledge as I could, and it has served me well. It's all about relationships – with co-workers, clients, and sub-contractors – so treat everyone with respect.