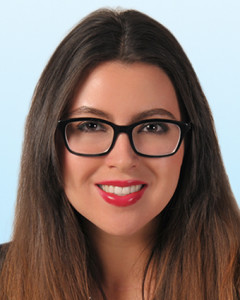 Colliers International" width="240" height="300" /> Maxine Kenny, Colliers
International
In the midst of political uncertainty, turmoil in foreign economies (specifically China), unrest in the Middle East, and declining oil prices, all signs are pointing to curbed global economic growth.
Taking a step back and focusing on the driving economic factors of our nation, with a majority dependence on consumer spending, we're witnessing the early stage impacts of the shift from brick and mortar retail locations to an e-commerce based economy. For example, just last week Walmart announced that 269 stores will be closed globally, with 154 in the U.S. This will prove an emerging trend among big box retailers, with chains such as Sears and Kmart on life support and Macy's feeling the heat of competition from companies like Amazon. Nationwide, the overdevelopment of malls in conjunction with big box closures will begin to impact localized economies, starting from the bottom up in "C" quality locations. There will be an inevitable increase in the unemployment rate on the horizon as a result of these store closings, yet the severity of this still remains unclear.
However, it seems that New Hampshire is in an advantageous position. The state's economy is robust, development is stronger than in recent years, and capitalization rates on investment assets are more compressed than any time this decade. It's unlikely that big box closings will have a significant impact statewide because development has been largely strategic, with higher performing anchor retailers such as Tractor Supply, Lowe's, Home Depot, Staples, TJX and Target taking a stronghold in our markets. Increased demand for industrial and retail product in the Seacoast market, in particular, will likely continue to drive real estate values up.
The Federal interest rate increase hasn't significantly affected borrowing costs thus far and the Fed will likely be ultra-cautious about future increases. The strength of the dollar and foreign demand for U.S. treasuries will continue to keep rates low. Limited means for earning decent returns and strong deposits are causing smaller local banks to get very competitive. Strong borrowers continue to have an advantage in today's market and command interest rates in the 3.8% to 4.2% range.
The fact that borrowing costs are low, cap rates are compressed, and new development is uncommon means the peak of the market may still be in the future. In the strong Seacoast market, absorption of office and industrial has been steadily trending upward since early 2015, with industrial vacancies at a near record low. Existing restaurant space is also emerging as a hot commodity, with very little inventory available in key areas like downtown Portsmouth.
Portsmouth is regarded as the restaurant capital of New Hampshire, if not northern New England, and is consistently attracting out-of-the-box restaurateurs and emerging chains like Tuscan Kitchen. Another notable addition to downtown will be the development of a Whole Foods Market on the vacant lot across from the Sheraton Harborside Hotel. Specialty grocers such as Whole Foods Market, Trader Joes and Philbrick's Fresh Market are good indicators of the high-end health conscious climate that the Seacoast supports. Specifically in the past 5 years, there has been a conscious shift towards sustainable local retailers and food producers. The ecosystem of downtown is driven in large part by local startups and unique specialty retailers that draw in tourists from around the world. Sustainable agriculture, farm to table dining, and farmer co-ops are key examples of this movement.
Though New Hampshire is not traditionally regarded as a "Class A" market, there are pockets of high growth and strong demand represented statewide. One significant issue that New Hampshire faces is the demand for skilled labor, particularly in the manufacturing sector. Retaining college graduates from New Hampshire universities and the community college system is key for continued growth and business retention in New Hampshire. Companies like Albany International, which recently transplanted its headquarters to Rochester from out of state, opened the door to leveraging training programs at local colleges.
In contrast to the projected year ahead for the nation, the New Hampshire economy continues to be on the 'up and up' with few signs of slowed growth or development.
Maxine Kenny is an associate for Colliers International, Manchester, N.H.