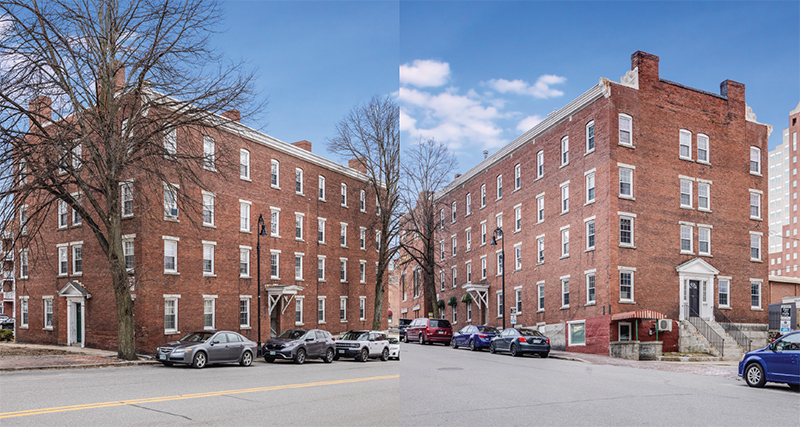 Manchester, NH William Peck of Horvath & Tremblay has arranged the sale of 31 units located at 54 and 96 Mechanic St. Peck exclusively represented the seller and procured the buyer to complete the transaction at a sale price of $5.6 million. The sale represents a 6.07% cap rate and a per unit price of $180,645.
The properties consist of 31 units on Mechanic St. (54 and 96 Mechanic St.), off of Elm St. (Rte. 3), in downtown. Mechanic consistes of 16, one-bedroom/one-bathroom units, two one-bedroom/one-bathroom units, 10, two-bedroom/one-bathroom units, one, two-bedroom/one-bathroom unit, one, three-bedroom/one-bathroom unit, and one office unit in 24,480 s/f of living area and 33,624 gross s/f on .46 acres. The properties offer parking for tenants, with 21 parking spaces and a four-car garage.
The properties are located within the city's downtown and provide many walkable amenities (shopping, dining, and entertainment) and access to SNHU Arena, several downtown parks (Veteran's Memorial Park, Bronstein Park, and Victory Park), and the banks of the Merrimack River. The location also provides access to I-93 and I-293, the Mall of New Hampshire retail trade area, downtown amenities and public transportation via city transit bus service. Manchester is the largest city in New Hampshire, and home to the University of New Hampshir –Manchester Campus and Southern New Hampshire University. It is home to the Manchester-Boston Regional Airport, the SNHU Arena, and sporting venues. Manchester is a growing urban-infill, high-demand/supply-constrained residential market.