Tyngsboro, MA The Mass Crane & Hoist companies have provided high quality bridge crane service and new installations in New England since 1987, expanding their business over the years to now supply and install products internationally. Over the last several years, Mass Crane's business has grown exponentially, so they needed a bigger facility to accommodate their increased operations. In late 2017, they hired Senate Construction to perform design/build preconstruction and construction services for a new corporate headquarters. Senate, a certified Butler Builder, was selected to manage this project because of its expertise in managing construction of pre-engineered metal buildings; extensive experience constructing manufacturing/distribution buildings; and a reputation for delivering the highest quality product.
In April of this year, Senate completed the new 50,000 s/f pre-engineered metal building. More than double the size of its former location, this new facility contains office, manufacturing, two conference rooms, and break areas.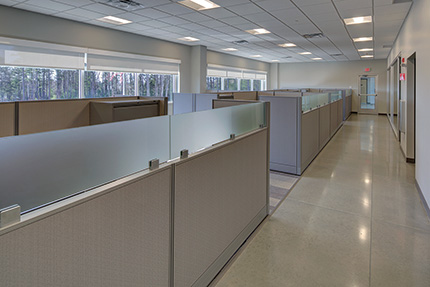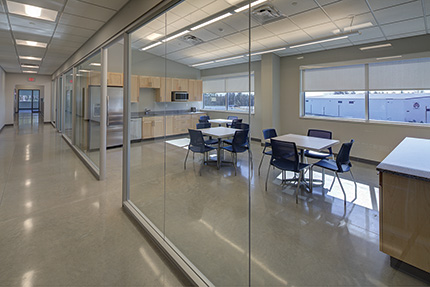 There are a lot of unique and interesting aspects of this building, including a sophisticated, multi-zone sound masking system throughout the office space to minimize distracting noise and increase privacy. The two-story grand lobby features an open staircase with polished concrete, stainless steel, and frameless glass with a mezzanine overlooking the lower level. Outside, the unique design of the front entrance includes three-inch insulated metal panels comprised of different shapes, sizes, textures, and colors and a two-story glass curtain wall entrance. The manufacturing space includes five bridge cranes – like those built and sold by Mass Crane – multiple welding stations, a large capacity paint booth, a high-volume exhaust and ventilation system, and over 50 foot-candles of lighting. For the floor, Mass Crane needed the slab to be flat and strong. Senate exceeded the requirements for both flatness and levelness and specified Forta-Fiber and Ashford Formula Concrete Densifier, which resulted in a strong slab with a very hard surface to accommodate Mass Crane's heavy manufacturing procedures.
"We're very proud of this transformative project for Mass Crane and Hoist," said Jon Karp, Senate's project manager and director of special projects. "Their business is growing and thriving and this new facility will give them the state-of-the-art tools – including bridge cranes, which they not only manufacture and distribute but use in their own business – and space they need to ensure success for years to come."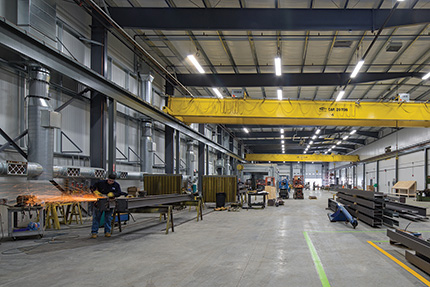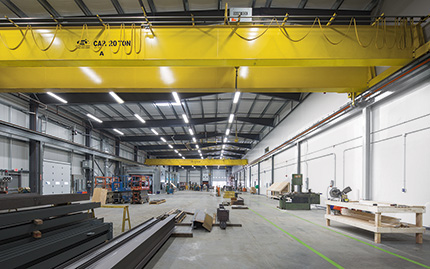 The site contained a significant amount of ledge. During preconstruction, it was discovered that the original placement of the building was going to require a lot of blasting, which is both timely and costly. So, the site was surveyed and it was determined that it would be best to reposition the building on the site. By simply angling it slightly and moving it over just twenty feet, most of the ledge was avoided and the integrity of the design was preserved. This small change delivered the owner a significant savings.
Installing the 65 foot-long paint booth was also a big undertaking. The inclusion of this booth – which will greatly increase Mass Crane's productivity – required the facility to go through extensive approvals and permitting with the DEP. Working closely with the town and the DEP, Mass Crane successfully satisfied all requirements for compliance without any negative impact to the project or the schedule.
Senate's superintendent, Matt Wilder, said of the project, "This was a really great team to work with. George Frost and his executive team had a vision for this project and we worked collaboratively from the beginning to ensure we would make it a reality. There was a mutual respect and they trusted our expertise and we did our best to ensure their trust in us paid off. I'm proud of how we delivered on the owner's vision and, for me, that's what makes a job really rewarding and successful."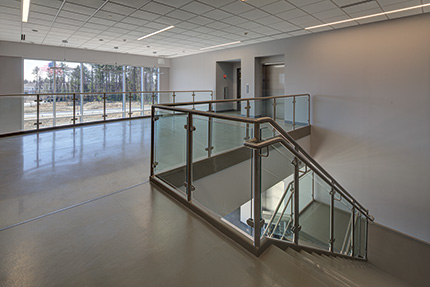 Founded in 1990, Senate Construction Corp. is one of the largest suppliers of pre-engineered buildings in New England. As a certified Butler Builder, Senate offers clients a line of products proven to be smarter, stronger, and all-around better than the competition.
As an expert specializing in the design/build approach, we collaborate with our clients to streamline the construction process to deliver more efficient, cost-effective buildings. Over the course of 29 years in business, Senate has honed its expertise in all facets of design and construction, from small renovations to large-scale new construction.
Mass Crane & Hoist headquarters project team:
Senate Construction Corp. - general contractor
Power Products Systems, LLC - power systems
Breen Sullivan Mechanical Services - mechanical services
Devens Recycling Center - demolition recycling
Butler Manufacturing Co. - design/engineer/manufacture
R-C Alarms Inc. - alarms
NorthStar Construction Services Corp. - roofing