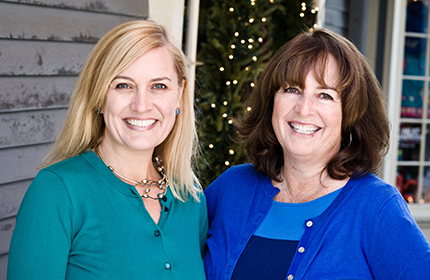 Falmouth, ME Portside Real Estate Group is expanding to York County with the opening of an office on Port Rd. Since opening in 2012, Portside has become the number one independently owned firm in Cumberland County. The new location will be the firm's first beyond Cumberland County, marking an exciting shift to serve all Southern Maine.
Portside will open its Kennebunk office on December 30th, collaborating with the Bassett Team, comprised of Becky Bassett and Grainne Archer. Portside's rapid success is contributed to their ability to hire incredible talent, and the addition of the Bassett team will build an immediate presence in the area. Bassett Team has been the top team in Kennebunk in from 2016-2019 for total units and volume sold. Bassett and Archer are fixtures in the York County real estate community, with more than three decades of experience serving homeowners in the Kennebunks and surrounding areas.
"Our team is proud to be part of the Kennebunk community that has supported our success for more than 25 years," said Bassett. "York County is growing and changing. As we look to the next 10 years, we know that the robust marketing team, creativity and community engagement Portside is known for is a perfect match for our team."
Portside is currently ranked as the fastest-growing real estate firm in Maine, with 39% growth from 2018 to 2019, and their expansion strategy is showing significant results. Owner Dava Davin chooses new locations based on market potential and focuses on giving back to each community. After opening an office in Cape Elizabeth last year, Portside saw a jump from fifth to first market position in just 1 year, proving the demand for a local office.
"Elevating the real estate experience for both agents and clients has opened the doors for growth and expansion," said Davin. "We are bringing York County something they've been missing in terms of more dynamic marketing and deep community involvement. As the leading independent company in Cumberland County, we expect to develop just as strong of a presence here in York County."
As 2019 draws to a close, inventory across Southern Maine continues to be tight, while housing prices are showing steady growth. In Cumberland County and York County, the median sales price increased 7.81% and 5.14%, respectively, according to the Maine Real Estate Statistics year-to-date report. According to Davin, this will mean a heightened need for skilled Realtors.
"We are in a market where real estate agents need to be creative problem-solvers," said Davin. "Buyers will have fewer homes to choose from, but they still need to love the home they buy. While sellers will see an advantage, sales will continue to be multi-layered as the Baby Boomers begin to transition from single-family homes to condos and retirement communities."