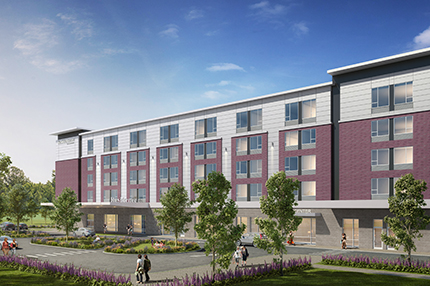 Natick, MA The 98,000 s/f Residence Inn by Marriott is on target for a late summer 2019 completion. Developers XSS Hotels and National Development teamed up with PROCON who is the architect and construction manager. The hotel is located at 1 Superior Dr. off Rte. 9. It is near the Natick Mall, nearby the MathWorks Campus, and four miles from Wellesley College.
The Residence Inn is an extended-stay hotel. The hotel will offer 136-urban king suites with a separate living area, a workspace, and a fully-equipped kitchen with standard-sized appliances. The design includes a lobby/reception that will blend into the lounge/bar with assorted seating.
The design also features 3,000 s/f of event space with a 350-person capacity. The room will subdivide into two smaller areas that can function simultaneously, and will be supported by a full-service kitchen. The lounge/bar and event spaces will access an outdoor patio.
XSS Hotels' principal partners Leo Xarras and Mark Stebbins said, "This brand choice was intended to provide more hotel rooms in a dense urban area, and still offer the extended-stay room experience for guests of the Residence Inn brand."
Guest amenities will include a fitness center, a 24/7 market, guest laundry, complimentary WiFi and a 24-hour business center. Exterior parking for 135 vehicles will include two car-charging stations.
The countdown to opening day is just around the corner with the start of interior finishes. When the new hotel opens to guests in summer 2019; travelers, Wellesley College visitors, and mall-bound shoppers will have an upscale accommodation in the town.