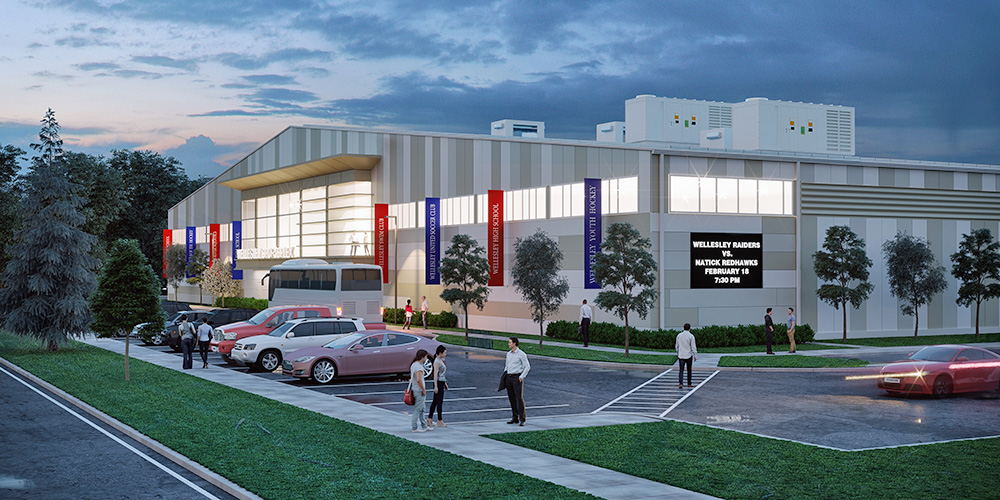 Wellesley, MA Wellesley has been repeatedly noted as one of the best towns in Massachusetts. With its great school systems and rich history, Wellesley provides a wonderful haven for families. However, there was one thing the town and its residents felt was missing: a fully-equipped sports and recreational center.
In 2012, the town reached an agreement to purchase a plot of land at 900 Worcester St., an eight-acre site known as St. James the Great Church. In early 2015, the town issued an RFP for a new multi-purpose sports complex. After a 24-month vetting process, the town selected the proposal for the Wellesley Sports Center from ESG Associates, led by Brian DeVellis, its president.
Transforming the vacant site into a home for the new recreational complex has been a very long process, but in early 2017, ESG contracted Dacon Corp. to bid Phase 1 of the project on a design/build basis. Phase 1 services included: programming, schematic design, assistance with the town approval process, civil coordination and developing the guaranteed maximum price (GMP) for the project. Identifying costs to base leasing revenue was key to making this project viable.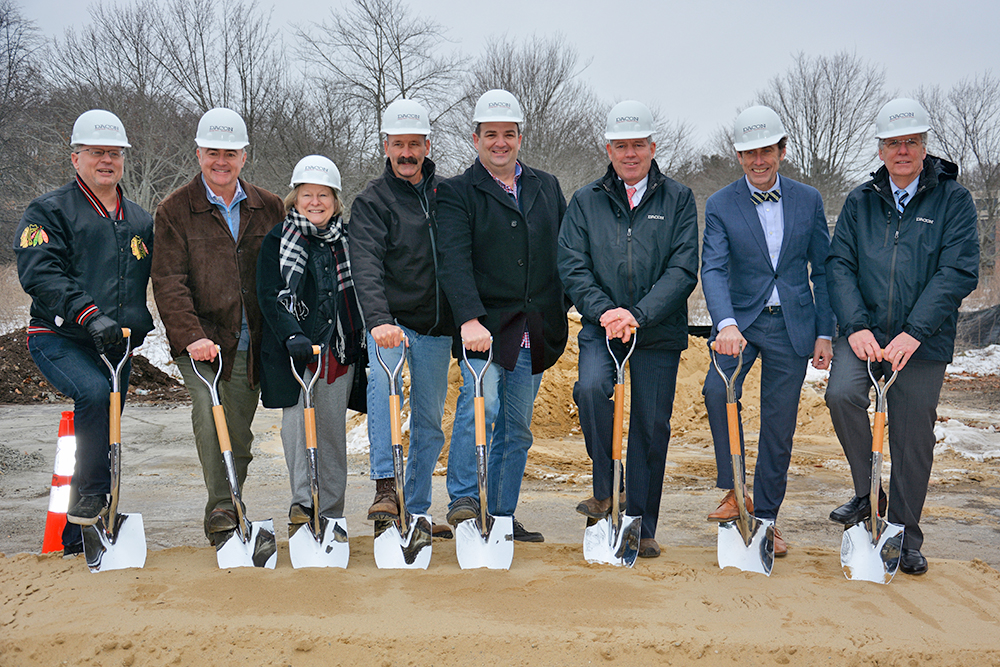 After approximately seven months of planning, the development team secured not only Wellesley Town Meeting approval, but no less than five intertwined local and MA DOT regulatory approvals. The overall cost for the project was realized and Dacon was awarded the design/build project in its entirety to complete engineering and construct the building.
Kevin Provencher, AIA, LEED AP BD+C, said, "We are thrilled to be working with ESG Associates Inc. and the team that Brian DeVellis has put together for this exciting project. The team included civil engineering firm, Allen & Major Associates, Inc., geotechnical construction contractor, Hayward Baker, Inc. and project management firm, Construction Monitoring Services, Inc. (CMS). The facility will be a great asset to the community and will be highly visible from Worcester Street day and night."
To realize the overall cost of the project, Dacon did its due diligence of the site to fully understand the soil conditions. After performing geotechnical services, Dacon found that the soils on the plot of land were unsuitable, which heavily impacted the overall cost of the project. However, Dacon was diligent in providing approaches to mitigate the impact.
With over 130,000 s/f of indoor sport and training space, the center will provide facilities for the town and neighboring communities. The facility will have two NHL size hockey rinks, two pools including 10 lanes (25 yards) lengthwise to bulkhead, plus three lanes (25 yards) widthwise and a smaller (50' x 25') warm water teaching/therapy pool. An indoor multi-purpose 90' x 150' (suitable for 7v7 high school soccer) turf field, fitness area with physical therapy (4,800 s/f), and strength and conditioning (6,600 s/f), round out the athletic components of the building. The facility will also have a running track on a mezzanine within the multi-purpose field. A variety of concession and amenity services are also being planned.
Provencher said, "Planning this multi-use facility on a compact site was a challenge for the design team but the result is an efficient design that maximizes the potential of the site. Energy conservation measures include an all LED lighting system and the facility will harvest the thermal energy produced by the ice rink refrigeration system to heat the swimming pool water, which will reduce operating costs."
Children and families will be able to benefit from its close proximity to their homes and schools. Its location and amenities will also prove beneficial for youth programs and students in need of a space for after-school practice. A full component of adult leagues is also planned. The Wellesley Sports Center will be the first of its kind in the MetroWest area.
The groundbreaking ceremony took place on December 15, 2017.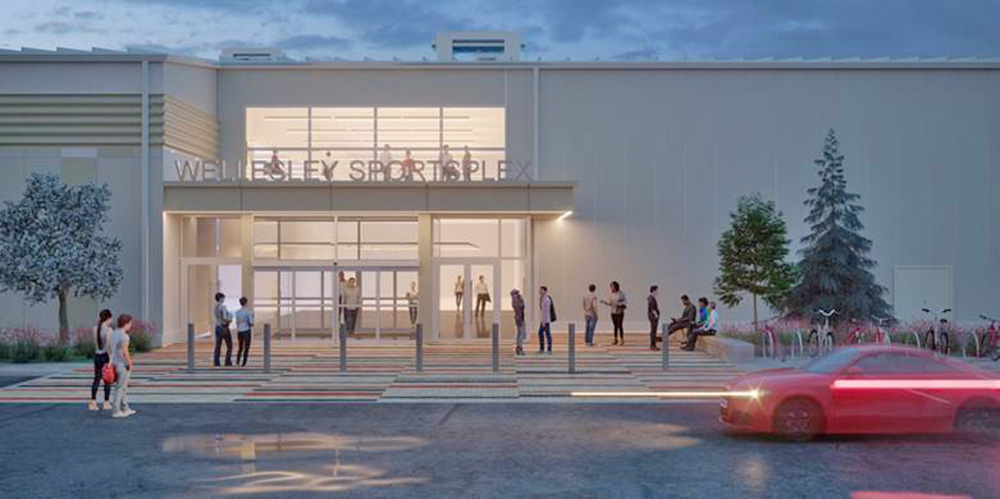 ESG was formed to react to the growing demand for public/private partnerships to provide year round athletic venues. ESG assists clients to navigate through public processes at the local, state and federal levels; works with private capital and conventional lenders to obtain financing; and establishes the programming and operational framework required to sustain the model. ESG is a full-service company that brings over 25 years of private and public recreational design experience and offers the full gamut of strategic and operational services in: assessment, feasibility & market studies; design, permit & construction management; and programming & operations. ESG's goal is to create sports ecosystems that offer recreational opportunities to both youths and adults, from amateur to professional, through the development of sports programs and organized league play to serve the local community.
CMS offers the full range of professional services in construction project management and owner's representation exclusively throughout Massachusetts. Founded in 1998, CMS celebrates its 20th anniversary this year, and in that short time, has completed projects totaling over $1 billion in aggregate value. With market specialization in K-12 education, public safety, municipal buildings, and sports/recreational facilities, CMS has established themselves as an industry leader in the field of project management, consistently completing high quality projects on time and under budget.
Dacon is a fully integrated design/build construction management firm. Dacon provides complete facility development services all under one roof to manage clients' unique project requirements. Dacon's multidisciplinary team is made up of knowledgeable and experienced professionals who specialize in architectural design, engineering, construction management, and general contracting. Working collaboratively from start to finish, Dacon's design/build team provides outstanding building solutions while eliminating the inherent risks involved with the traditional construction process.
Projcet Team:
Dacon Corporation: Design/Build
BARNES buildings: Engineered Steel Building System
Rivers Electrical Corp.: Electrical
Hayward Baker, Inc.: Geotechnical Construction Contractor
Allen & Major Associates, Inc.: Civil Engineer