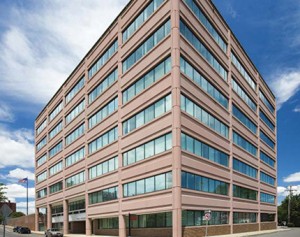 30 Temple Street - Nashua, NH
Nashua, NH National real estate company R.J. Finlay & Co. purchased 106-130 Main St. and 8-12 Temple St. from Triangle Credit Union for $2 million. In connection with the transaction, Triangle Credit Union will relocate its management team to the approximately 18,724 s/f 7 th floor at 30 Temple St. The Triangle branch is already located on the 2nd floor of 30 Temple Street. With the move, Triangle Credit Union will become the largest tenant at the newly revitalized landmark (formerly known as Indian Head Plaza).
R.J. Finlay & Co. acquired 30 Temple St. and the parking lot at 4 Church St., in June 2011 for $4.3 million. At the time of acquisition, 30 Temple Street had significant deferred maintenance, needed capital improvements and occupancy was approximately 17%.
Finlay has spent millions of dollars improving 30 Temple St., including most notably; returning the covered parking garage to service and repairing the upper parking deck; replacing all 3 elevators; completing numerous build outs for long-term tenants; adding the Seedling Café as a tenant and building amenity; and replacing the cooling tower and other HVAC improvements.
With the lease of the 7th floor to Triangle Credit Union, 30 Temple St. is now over 90% occupied.
"We are delighted to acquire such a historic Main St. property in a city very close to our hearts," said R.J. Finlay & Co. principal Robert  Finlay. "I signed my first car loan at 30 Temple Street in the 1980s and I am thrilled to see the vitality in downtown Nashua restored to what it once enjoyed. Triangle Credit Union has been a great partner for us and we look forward to having their operations here at 30 Temple St."