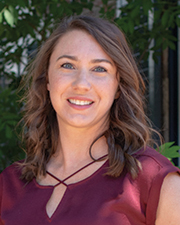 Portsmouth, NH According to Maugel Architects, Britni Rotunda, AIA, has been promoted to the DeStefano Maugel studio manager for the firm's local office.
Prior to her new leadership position, Rotunda, served as a project architect at DeStefano Maugel Architects, where she was responsible for overseeing many of the studio's largest and most complex projects. A graduate of the University of Colorado at Boulder with a degree in environmental design, she has over 10 years of project management experience across a wide range of projects in the custom residential and commercial markets.
"Britni is talented designer and a terrific advocate for our clients," said Lisa DeStefano, principal at Maugel Architects. "Her passion for architecture, strong leadership skills, and dedication to exceptional design made her a natural choice to lead the Portsmouth studio. I am excited for the future of the studio and look forward to its continued success under her leadership."
In 2019, Harvard, Mass., based Maugel Architects acquired DeStefano Architects of Portsmouth. The acquisition accelerated the firms' growth trajectories by immediately adding bandwidth in both capacity and geography. The combining of firms added a depth of design talent in urban in-fill and custom residential markets and extended Maugel's geographical presence across all commercial market sectors throughout New England.
In recognition of DeStefano Architects' long-standing reputation for exceptional design and client advocacy, Founder Lisa DeStefano was named a principal of Maugel Architects and DeStefano Architects was renamed DeStefano Maugel Architects. The firms now operate as one, maintaining corporate offices in Harvard and the DeStefano Maugel Studio in Portsmouth.