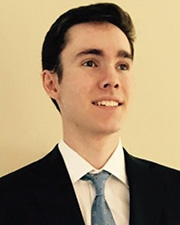 Westbrook, CT According to Ron Lyman, CCIM, CEO of Lyman Real Estate Brokerage & Development, Patrick Sennott has joined the firm as an associate. Sennott reports directly to Lyman, assisting with managing due diligence for development projects, handling business operations, and supporting Lyman's brokers and agents.
Sennott is a recent graduate of the University of Connecticut, where he majored in Real Estate and Urban Economics and was a member of the Real Estate Society.
During college, he spent two summers as a project manager for Wells Restoration, a commercial contracting company in Rowley, Mass., which specializes in epoxy flooring and concrete repair.
Sennott also interned at WinnCompanies in Boston, where he conducted market research into potential areas for low income and affordable housing development.