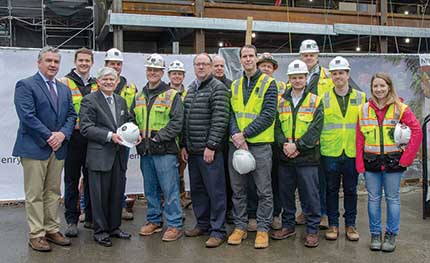 Boston, MA To celebrate the renovation and expansion of the Henry Goldman School of Dental Medicine, Boston University and Shawmut Design and Construction hosted a topping off and beam signing ceremony at 100 East Newton St.
Senior executives, faculty and students were present to celebrate the milestone. The event commenced with remarks from Kevin Sullivan, VP of New England Institutional at Shawmut; and Jeffery Hutter, dean of the Goldman School of Dental Medicine.
The $112 million project includes a 41,900 s/f expansion and 53,100 s/f renovation featuring offices, instructional, clinical, and student collaborative spaces on seven existing levels, plus support spaces, and an entirely new 140-seat auditorium on the first floor. The project will be completed in three phases – first was just completed, second slated to finish in Feb. 2020 and the final phase done by Feb. 2021.