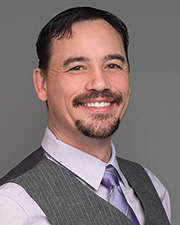 Westbrook, CT According to Ron Lyman, CCIM, CEO of Lyman Real Estate Brokerage & Development, Steven Shelley has joined the firm as a licensed real estate agent. He will be serving the full range of commercial buyers, sellers, landlords and tenants, with a focus on real estate investment and urban rejuvenation. Shelley is a graduate of the Commercial Investment Real Estate Certification (CIREC) program as developed by Edward Smith, Jr. He also holds a B.S. in Organizational Leadership from the Pennsylvania State University.
Shelley is a Connecticut native. After graduating from New Fairfield High School, he enlisted in the Navy, and volunteered and was accepted into the elite submarine service. He achieved the rank of chief petty officer working as his submarine's assistant navigator, and retired after 20 years of service. Shelley lives with his wife and children in Salem, and enjoys skiing, golf, woodworking, and watching Jeopardy with his family.
Lyman represents commercial and residential buyers, sellers, landlords and tenants. For more than 30 years, the firm has been providing a full range of commercial brokerage and development services, and has helped bring prominent national and regional companies into the area.