Seaport Sq. is a mixed-use master plan with a combination of office, residential, retail, education, and civic uses. Copley Wolff Design Group has been responsible for the landscape planning and design for a number of projects in the district including 101 Seaport, 121 Seaport, and Watermark Seaport – all developed by Skanska.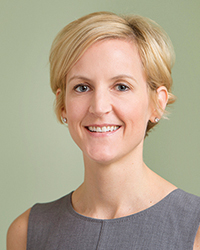 Danna Day, Copley Wolff Design Group
The recently-opened 101 Seaport is the first office tower located in Boston's Seaport Sq. The 17-story building is the new Boston headquarters for PricewaterhouseCoopers, which occupies more than 75% of the 440,000 s/f Class-A building. Copley Wolff Design Group designed the fifth-floor, 15,640 s/f roof terrace which functions as a contemporary amenity space and features outdoor dining and gathering areas for the building's occupants. It is planted with a series of 8-inch-deep, pre-vegetated green roof trays containing a mix of native and adapted ornamental grasses, perennials, and sedums. Pedestrian space is paved with precast unit pavers on pedestals. The terrace provides stunning, protected views of Boston Harbor.
Currently under construction, 121 Seaport is a 17-story Class-A building containing 400,000 s/f of office space, first and second floor retail, and an underground parking garage accommodating up to 270 vehicles. Copley Wolff Design Group's design of the streetscape along both 121 and 101 Seaport follows the Seaport Sq. Master Plan Guidelines. It contains a permeable precast unit paver strip along the curb edges, large tree pits with structural soil, aeration, and concrete paving. The street tree system embraces all the current urban planting technology (i.e. structural soils, stormwater management, and species diversity) in an effort to ensure longevity of urban ecological systems. Because the Seaport District is essentially a new neighborhood, the alignment of pedestrian walks and planted corridors is carefully designed between parcels to create a cohesive pedestrian system.
Watermark Seaport is a residential tower consisting of 346 apartments, 25,000 s/f of retail space, and two levels of below-grade parking. Copley Wolff Design Group designed several green roofs, a courtyard, and the streetscape surrounding the building. One of the green roofs, accessible by residents, contains a kitchen, fireplace, standing bar, and furnishings. The streetscape features a furniture and tree planting zone, an upper café dining terrace, and paving banding to accentuate the main entrance. The internal courtyard includes large specimen shade trees adorned with lanterns and a series of seat walls to complement the staggered paving pattern. Watermark Seaport opened in January 2016.
Harbor Way, a 70-foot-wide pedestrian retail corridor located in between the 101 and 121 Seaport buildings, will serve as a connector between the northern Seaport Sq. parks and southern residential parcels. Copley Wolff Design Group's design features plantings, seating, and generous open spaces for future programming at the adjacent east and west retail markets. Harbor Way is an important connective component within the Seaport's new open space system, reinforcing the value of the pedestrian experience within the urban environment. This represents a shift in thinking for urban development, demonstrating the value of alternative transit over car-centric design.
Danna Day is the director of marketing at Copley Wolff Design Group, Boston.