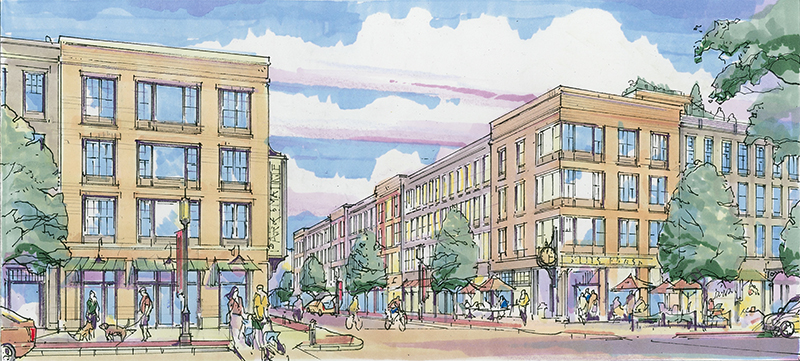 Hartford, CT On August 18th, a groundbreaking took place for the long-awaited development project, Park & Main, a mixed-use, mixed-income public-private partnership designed to connect neighborhoods and transform the intersection of Park and Main Sts. into a walkable community and a reimagined gateway to downtown. Prior to this development, the site had been vacant for more than 30 years.
The $26 million project made possible by Spinnaker Real Estate Partners in conjunction with the Freeman Companies, Park & Main will feature a 126-unit apartment community with 23,000 s/f of commercial space. Beinfield Architecture of Norwalk, designed Park & Main to fit in with the scale and character of the existing neighborhood.
Mayor Luke Bronin, Clayton Fowler, Spinnaker's chairman, CEO and principal, and Rohan Freeman, founder and president of Freeman Cos., gathered at the celebratory event along with state and city officials.
"We are pleased to see this project launch and our vision come to fruition," said Fowler, who expects the project to be completed within one year.
The apartment building will feature full amenities, including a roof deck with a community garden, grilling stations and pet area, resident co-working area, lounge and bike storage plus 125 parking spaces on-site. Apartments, primarily studio and one and two-bedroom units, will offer modern open floor plans, 9-foot ceilings, walk-in closets, oversized windows and LED lighting.
Approximately 20% of the units will be designated as affordable.
The financing for the project includes $8.4 million in loans from the Capital Region Development Authority and a construction loan from M&T Bank.