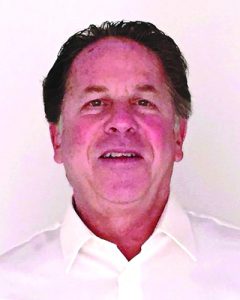 Andrew Levy, The MEG Companies
Well except for Tuesday's sneak attack nor'easter, winter is on its way out (?) and spring is right around the corner. Always a happy time of year-no matter how bad the winter was by now most people are plain sick of it and yearn for the sun and hot weather, and all the things we love in spring & summer in New England.
Business always likes spring as well. People are out and about and generally more optimistic. Activity seems to be a bit more brisk than in years past, with better job reports, stock market increases, and consumer confidence the major barometer that drives shopping is slowly improving. New Hampshire's economy, and real estate markets in all sectors continue on an upward spiral absorbing space and lowering vacancy numbers. Predictions for moderate economic growth for 2017 with  new construction of industrial, residential, hospitality, banking and retail properties is on track.
Retail activity overall is good with several New Hampshire communities in particular seeing more than average retail growth. Rte. 3 Bedford (South River Rd.) has become the preferred upscale community with new medical office, retail developments, road widening improvements, and store openings. Most significant being Hannaford's renovation of the Stop 'n Shop on Kilton Rd., the new Whole Foods at the Goffe Mill Plaza at the former Wayfarer hotel site, and the largest development under construction, Encore Retails' 300,000 s/f Market and Main mixed-use project on the former Macy's site.
Just last week it was announced that Boston Interiors will open it's first New Hampshire store,  21,000  s/f of the former Hannaford supermarket on Colby Court in the Bedford Grove Shopping Center in late summer. Owner Brixmor Property Group has other lease opportunities at the center. 
Manchester is also seeing a lot of activity and positive growth. Both the new Super WalMart on Gold St., and Aldi's have  recently opened. Aldi's will fill the former Michael's crafts store at 1111 South Willow St., according to Ronald Golub, principal of The Stonewood Companies, which leases and manages the property. The former Lowe's adjacent to the Mall of New Hampshire is being redeveloped, anchored by Chunky's Cinema Pub, and it was recently announced that Cowabungas, the indoor children's play center, will join them. Textbook retail co-tenancy 101! A front restaurant PAD is available as well as retail space in the remainder of the building.
A few blocks north on South Willow St. construction work has begun at Brady Sullivan and Anagnost Companies recent acquisition of the Sylvania site which will be transformed into a 300,000 s/f mixed use retail development. Also on the "strip" though the Sports Authority closed, it is already being renovated for new tenants. Party City will be moving from their 8,000 s/f into the  old Sports Authority space across the street  to double their size. They plan to open this summer. The existing space located at 908 South Willow St. will be subdivided into three units consisting of 2,000 to 3,000 s/f  available late this fall according to property manager Denise Bernard. Andy White at National Commercial has the 5,400 s/f former Dot's unit at TJ Max Plaza for lease. A new discount apparel store has opened behind them next to Burlington Coat Factory.
Downtown continues to thrive with some of Manchester's most iconic and historic properties seeing new life converted to luxury apartments namely The Lofts at Mill West on McGregor St., and the Citizens Bank  building on Elm St. These properties are fueling the demand from young professionals who want to live, work, and play downtown. They offer unique architectural features such as sandblasted brick, high ceilings, views, and on site amenities not found in ordinary new construction. In addition to the 90 +/- residential apartments on Elm St. plans call for ground level retail and restaurants including a new upscale gourmet burger place.
Manchester will also see two new hotel developments adding  hundreds of rooms. Both were originally planned to be under construction this spring.
New restaurants and music venues continue to open downtown. A new Cajun Concept is coming to The Bell Building next to  City Hall. Recently it was announced that the former Brimmer's on Elm St. will re-open with a new look and menu and live rock n roll music. Ted Hebert's Music School, a mainstay in downtown for 30 + years at the Bell Bldg., bought by Majestic Theatre Co., has reopened on Paige St.
In Londonderry the Woodmont development is on track but no new stores have opened since last winter though highway construction has started for the proposed new Exit 4-A. Sadly Appletree Mall (Shaw's Supermarket) one of the towns most established and recognized shopping centers is scheduled to be auctioned in a few weeks. Both Home Goods and TJ Maxx have left sizable space available for lease as they have moved to the Woodmont site.
Though Tupelo Music Hall has left Londonderry they are about to open  new bigger and better digs nearby in Derry on A St. Also, The Grind Rail Trail Café has opened on Broadway, and Midgard Comics at Hood Commons.
In Concord there is continued infill of the few remaining land parcels near the recently sold Steeplegate Mall for more power centers and free standing pad developments.
Retailers want to be surrounded by other retailers especially next to a regional mall. There is up to b.good restaurant has located on Ft. Eddy Rd. in the space formerly occupied by Boloco.
Waterstone Retail's Granite Ridge on Rte.111 is already open and features a Market Basket, PETCO, DSW Shoe, ULTA, a movie cinema, restaurants, and smaller specialty stores.
The expansion of banks, urgent care, fitness seems to have died down, though several are under construction and have not opened yet including the ZOO fitness building  on Rte. 125 in Epping. NH Liquor & Wine Outlet's expansion of new superstores. may have been satisfied. Sundays Union Leader had an article saying that self storage market is reaching saturation in New Hampshire.
The only major exception is restaurants as that segment is constantly changing and battling for market share, plus new concepts are introduced all the time trying to take some of that away.
When the economy gets tough disposable money for dining out is a luxury, not a must have necessity (in some cases and New Hampshire communities).
Aroma Joes Coffee is still expanding looking for affordable high traffic sites where they can build their double drive through kiosk. A new site in Salem was just approved. Tuscan Kitchen just opened on Rte. 1 in Portsmouth and Buffalo Wild Wings opened at the Pheasant Lane Mall,
In Salem, the planning board approved phase I of Tuscan Village, a 368,000 s/f mixed-use development on former Rockingham Park racetrack property of the town's large-scale redevelopment ordinance by restaurateur Joseph Faro, who purchased the 50 acres last year. Phase I calls for a 150-room hotel, 128 units of multifamily housing, 80 townhouse units and at least 168,000 s/f of retail space.
Also in Salem it was announced that a developer is proposing a movie cinema, and four restaurants  to be built on the parking lot behind Sears at the Mall at Rockingham Park.
There is also a lot of new activity in Merrimack, namely a new extended stay hotel by Wood Spring Suites at Exit 11 currently under construction, and a new Franklin Savings Bank has been approved at 1 Dobson Way. The planning board recently approved a new multi use project in front of the entrance to the Premium Outlet Mall that will include a five story hotel, apartments, office space, and a retail building.
A major retail redevelopment is unfolding on Daniel Webster Hwy. where the old Shaw's Plaza is being transformed into a modern attractive totally new shopping center by OVP Management (developers of Settler's Green Outlet Mall in North Conway) that will feature specialty retail space for a variety of tenants, restaurants, and two free stranding pads. Construction is expected to begin this spring. Leasing opportunities of various sizes are still available. Please call me as I am working on this with OVP.
New projects are always exciting to work on but there is still a lot of smaller second/third generation shopping center space in New Hampshire that is vacant. Several have big boxes vacated by supermarkets and retailers that have closed. These need to be leased up and the properties renovated and upgraded. Hopefully as the economy improves these will happen this year.
In summary my Spring Forecast is an optimistic one. I see continued lease up of existing vacant space including  the big boxes mentioned above, as well as new retail developments and free standing BTS opportunities.
Andrew Levy, CCIM, is vice president of retail leasing for the MEG Companies, Londonderry, N.H.