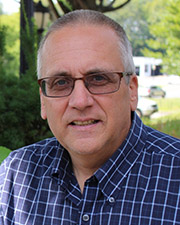 Westford, MA LandTech Consultants, a 3D technology-based civil engineering and land surveying firm, has expanded its leadership team with the addition of Kenneth Strom, PLS as director of geomatics. This hire reflects LandTech's commitment to the growth of its land survey and civil engineering design capabilities in N.E.
Strom is a licensed Professional Land Surveyor in Mass., Conn., and Vermont with 35 years of experience in surveying and 15 years experience in civil engineering design. His expertise includes the design and permitting of residential subdivisions; site plans for commercial, industrial, retail, academic and institutional clients; and multi and single-family residential projects. Prior to joining LandTech, he served as civil design engineer at Waterman Design Associates and land surveying manager at Nitsch Engineering. Strom is currently an active member and leader in numerous industry trade associations.
"We're all very excited to have Ken on our team," said Christopher Lorrain, president and founder of LandTech.
"LandTech is planning to expand the capabilities in our Westford office and we look forward to him sharing his land surveying, project management, and technological expertise with our clients throughout New England."