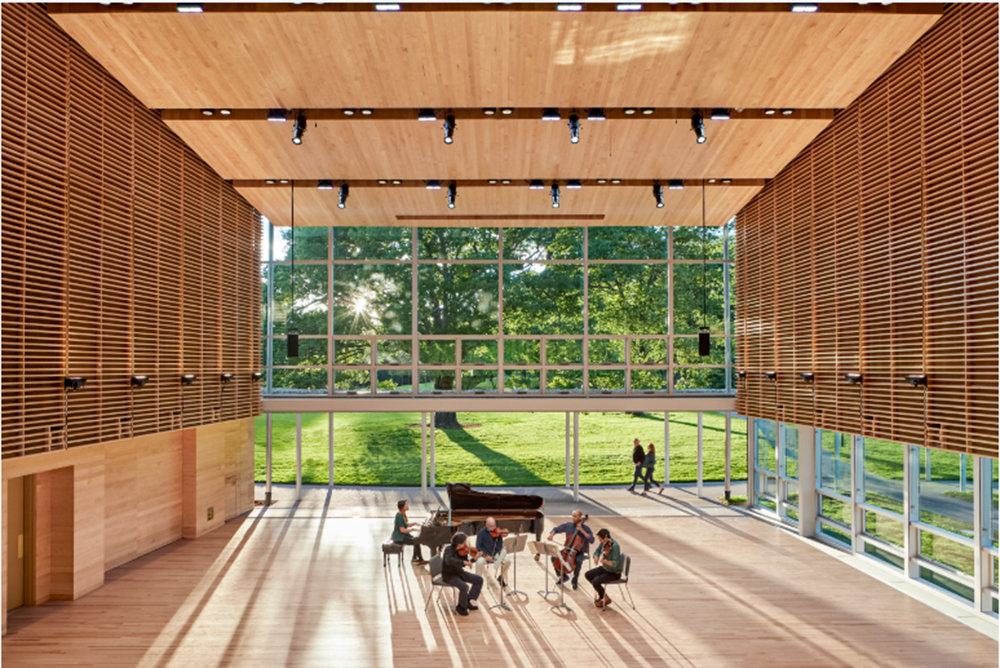 Lenox, MA Tanglewood Linde Center for Music and Learning has been recognized by the national American Institute of Architects with its 2021 Award for Interior Architecture. This award celebrates "the most innovative interior spaces" that exemplify "sustainable, resilient and inclusive design."
The Linde Center for Music and Learning at Tanglewood, the Boston Symphony Orchestra's long-time summer home in the Berkshires, was envisioned as a place where new ideas around music could commingle with cultural enrichment. Against the backdrop of a captivating landscape, the center is a cluster of four new buildings that help bridge Tanglewood's acclaimed music festival and its summer music academy, which provides no-cost fellowships to some of America's most talented professional musicians.
Connected by a serpentine pathway, the center's four buildings house Tanglewood's educational programs, recitals, and lectures, including the Tanglewood Learning Institute. The recently launched program provides classical music patrons extraordinary access to top-tier musicians as they work to hone their craft.
Through all of its programs, the center aims to immerse audiences deeper into the process of creating music.
The center is positioned as a vital music incubator through its scale, flexibility, and distance-learning capabilities. Through it, the orchestra has experimented with new concepts and technologies, something that has proven to be particularly important as the COVID-19 pandemic has forced cultural institutions to move the majority of their offerings online.