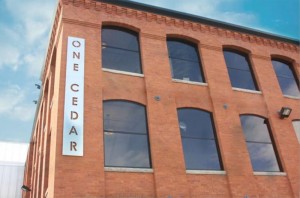 One Cedar Street - Providence, RI
Providence, RI Over the past year, The Omni Group has completed the lease-up and build-out of over 70% of its most recent project, One Cedar St. Since acquiring the new 2-acre property, Omni has undertaken a full-scale redevelopment of the former mill building including all new mechanical systems, building envelope systems and site work.
Now, a fully repurposed professional office building, Omni has named its first five tenants at the property: United Retirement Plan Consultants, Vanasse Hangen Brustlin, Donoghue Barrett & Singal, Maxim Healthcare Services, and Bond Brothers.
Located at the West Exchange Center in Historic Federal Hill, One Cedar St. is a 50,000 s/f building located on the eastern boundary of the complex, directly alongside I-95.
The 11-building West Exchange Center campus is home to a diverse roster of local, national and international companies and can accommodate professional office users ranging from 500 s/f to 56,000 s/f.