Danvers, MA U.S.-1 Ventures (US1) has recently completed its $750,000 renovation of 55 Ferncroft Rd. US1's Christine Diarbakerly purchased the 108,000 s/f office building in January at 25% occupancy for $5.3 million. The office building sits along the I-95 and Rte. 1 corridor.
US1 purchased a new cooling tower for the building and replaced several heat pumps throughout the building. To increase security for the tenants of the building, a new security camera monitoring system was installed throughout the building.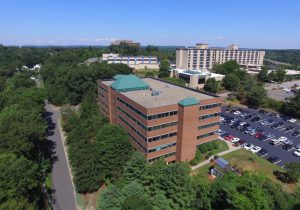 55 Ferncroft Road - Danvers, MA
The lobby was renovated with new ceiling tiles, new flooring, newly painted walls and doors, new art and new modern furniture.
A café lounge was also built out. The café lounge includes a Leanbox, soda and snack machine and tables and chairs for seating.
The bathrooms were upgraded with new walls and new flooring tile.
The walkway and front entrance to the building was also upgraded with new hardscape pavers, new landscape redesign and a new revolving door.
Additionally, the building was upgraded with new LED lighting throughout and in the parking lots. The new lights have a modern design and are more energy efficient.
Furthermore, the building directional and tenant signage was replaced with new, modern signs.
The building and atrium windows were power washed and cleaned. The surface parking lot and underground parking garage was also crack sealed, seal coated, and line striped.
The building is currently for lease with Colliers International.