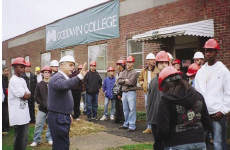 Hartford area high school students prepare to tour the construction site at Goodwin College.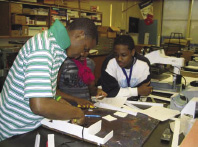 Bloomfield High School students Carlos Carter and Taylor Chaney build a model.
Hartford and Bloomfield area high school students got some real world experience in the architecture, construction and engineering field when they participated in the after school ACE Mentor Program of Connecticut. The ACE program is a national program with four chapters in Connecticut. Students meet after school and learn the process of planning, designing and building a building. Professional architects, engineers and construction managers volunteer their time to meet with and mentor the students, showing them blueprints, models and the computer programs which are used in the different steps of the design and construction process. The goal of the program is to introduce the students to these professions and encourage them to pursue studies and careers in these fields.
As part of a major renovation project at Bloomfield High School, Diggs Construction program manager Jennifer Frank started a new ACE Group (the fourth in the Hartford Chapter) for students in the Bloomfield area. Eighteeen students from area high schools participated, designing a new library addition and landscaped courtyard. Students and mentors met for 15 sessions, preparing plans, renderings and building several models. The process finishes with a formal presentation by the students. Other activities include field trips to construction sites and an architect's offices.
Other local design and construction firms participating with Diggs Construction include: architects Tai Soo Kim Partners, engineers Progressive Engineering, landscape design TO Design and construction managers Newfield Construction.