Needham, MA BOND celebrated the ground breaking of the new Beth Israel Deaconess Hospital–Needham (BID-Needham) Outpatient Clinical Center. The ceremony was attended by members of the BID–Needham community, administrators and staff as well as the BOND project team and design partners including JACA Architects, Bard Rao + Athanas and Nitsch Engineering.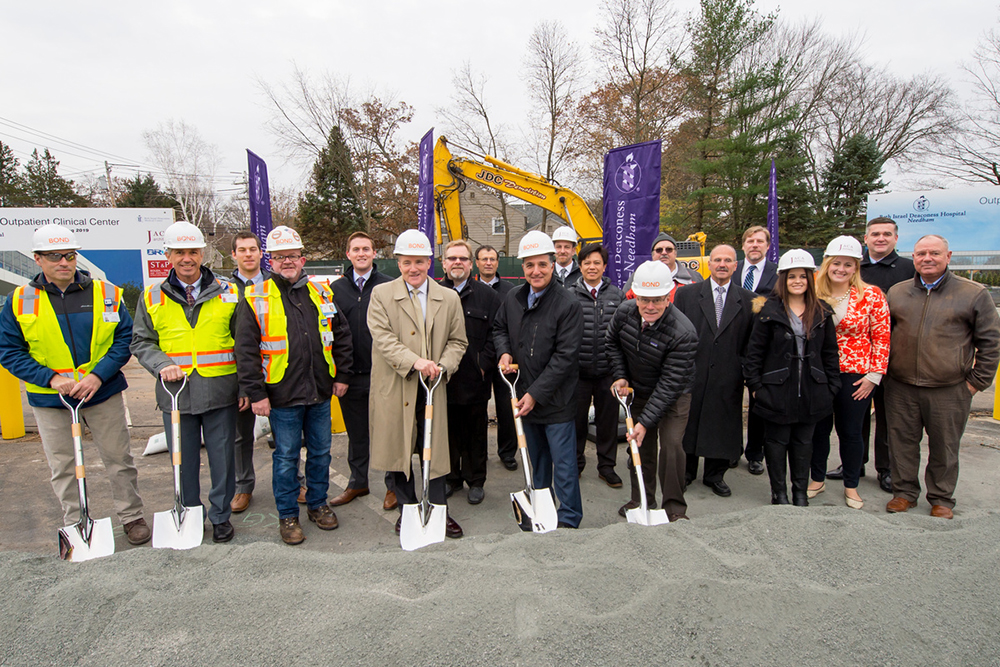 BOND is providing preconstruction and construction management services for the 37,000 s/f, four-story building, located at 148 Chestnut St. The center will provide gastroenterology, cardiology and orthopedic services, as well as an array of medical/surgical specialties and support services.
The Center will support an increased number of medical professionals with technology-rich services designed to lower hospital stays and improve the patient experience.
"BOND is proud to continue our long-standing relationship with BID–Needham," said Michael Walsh, BOND's Vice President, Healthcare and Life Sciences. "This is an important addition to the Needham campus that will greatly benefit the surrounding communities with a full range of outpatient services under one roof. We are excited to break ground on this modern new building that will improve patient access and offer world class medical care closer to home."
The new Outpatient Clinical Center is planned to open in the Spring of 2019 and is the third project delivered by BOND and JACA Architects within the last ten years. Other recent BOND/JACA projects on the BIDH–Needham campus include the Cancer Center and Surgical Building in 2014 and the BreastCare Center in 2016. These projects are part of the Hospital's overall strategy to redevelop and transform the Needham campus, bringing state-of-the art care to Boston's western suburbs.
Since 1907, BOND has managed many of New England's most complex construction projects. BOND operates as a construction manager for academic and healthcare clients and a self-performing general contractor for the power and energy industry. BOND is well-known for delivering reliable, safe, and high-quality work. The Building Division Healthcare group has completed high-profile projects for clients such as Beth Israel Deaconess Hospital, Boston Children's Hospital, Dana-Farber Cancer Institute and Lahey Health.