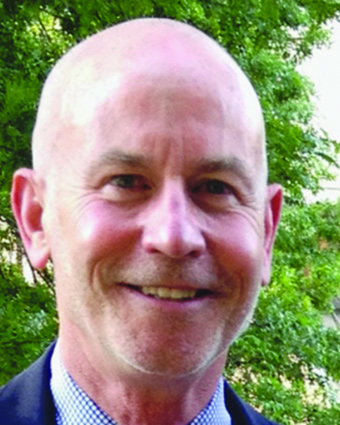 Terence Elton, Town of Branford, Conn.
With the approach of spring, activity across town continues to illustrate how businesses are discovering Branford's strategic location, skilled workforce, low taxes and business friendly environment.
Artis Senior Living, a new 60,000 s/f, 64-bed memory care facility is nearing completion at its new home on more than 3 acres along North Main St., near I-95's Exit 56.    
Only a half mile east on Rte. 1, American Polyfilm is getting close to flipping the "on" switch at its new 40,000 s/f state-of-the-art manufacturing facility.  It sits next to another new manufacturing facility, All Panel Systems in its new 30,000 s/f building, and almost directly across Rte. 1 from the Army Corps' new 37,000 s/f training facility, scheduled for completion this spring    
With P&Z's approval in hand, Bausch+Ströbel  has acquired a 4-acre parcel on Rte. 139 near Exit 55, and has begun to focus on architectural and engineering plans. The new 59,000 s/f manufacturing facility will allow the company to meet the growing demand for its pharmaceutical packaging products and to serve as its North American headquarters.        
And with the town's focus on "work-live-play" development, it's not only our industrial zone that's getting the attention. Following P&Z's approval of its master plan, MetroStar is now working with the commission and land use officials on its detailed site plan for Atlantic Wharf, a seven-acre, mixed use TOD project.  The project includes two hundred residential units and 20,000 s/f of street level commercial space ideally located in the town center on the Branford River close to the train station, the town center historic district, and to the town green with its concerts, shopping and dining along Main St. 
Nearby, the expansion project at the Branford train station is well-timed and will serve Atlantic Wharf and other areas businesses very well for a long time.  When finished in late spring or early summer, the result will be a new curbside "kiss & ride" drop off for rail commuters, pedestrian access to both sides of the track via a new footbridge, and additional parking for new riders as the train service expands.
These types of infrastructure projects are clear signs that Branford is widely considered a sound investment.  It reinforces what the private sector has discovered about the town: that, in addition to being a gateway to New England and a portal to New York, Branford 
• Has the lowest taxes on the shoreline for full service towns, and a coveted triple-A bond rating;
• Is strategically located – less than 10 miles to New Haven and Yale University, 40 miles to Hartford, 50 miles to Stamford, 75 miles to Providence, 90 miles to Manhattan, and just over two hours to Boston; and for our increasing number of exporters, there's easy access via I-95 to the Port Authority of New York & New Jersey, the largest port on the East Coast.
•  Has multiple transit outlets - direct access to I-95 and only minutes to I-91 – daily commuter rail to New Haven & Yale and to Metro North service to Stamford/NYC and Amtrak to Providence and Boston – numerous air carriers from Tweed-New Haven, Bradley International [Hartford], TF Green [Providence], and LaGuardia and JFK [New York];   
• Has a highly educated and skilled workforce with nearly half of its residents having a bachelor's degree or more; 
•  Is minutes away from a dynamic cluster of higher learning led by Yale, Quinnipiac University, and the University of New Haven; 
•  Has access to world class healthcare and medical services at Yale-New Haven Hospital, Smilow Cancer Center, VA Connecticut Healthcare, and Quinnipiac's new Netter School of Medicine; 
• Enjoys an enviable lifestyle with boating, fishing, hiking & biking and birding throughout town and along the shoreline; 
•  Has endless cultural opportunities with classical, folk, pop and jazz concerts throughout the year, and award-winning stage productions at nearby Yale Rep, Schubert and Long Wharf Theatres;    
• And yet, maintains the comfort and charm of the small New England town it is.
To discover more about Branford and for assistance in finding a site that meets your needs, visit www.branford-ct.org.
Terence Elton is special projects manager for the Town of Branford, Conn.