Boston, MA On Thursday August 17, as Boston city officials hurriedly prepared for the "Free Speech Rally" at the Boston Common, to be held two days later on August 19, security and public safety were major concerns, given the violence that broke out a week earlier in Charlottesville, Virginia. At 7 p.m. Thursday night, representatives from the Boston Police Department (BPD) contacted LAN-TEL Communications, an industry-leading Norwood-based low voltage contractor specializing in security systems, to install security cameras at the bandstand on Boston Common in advance of the rally.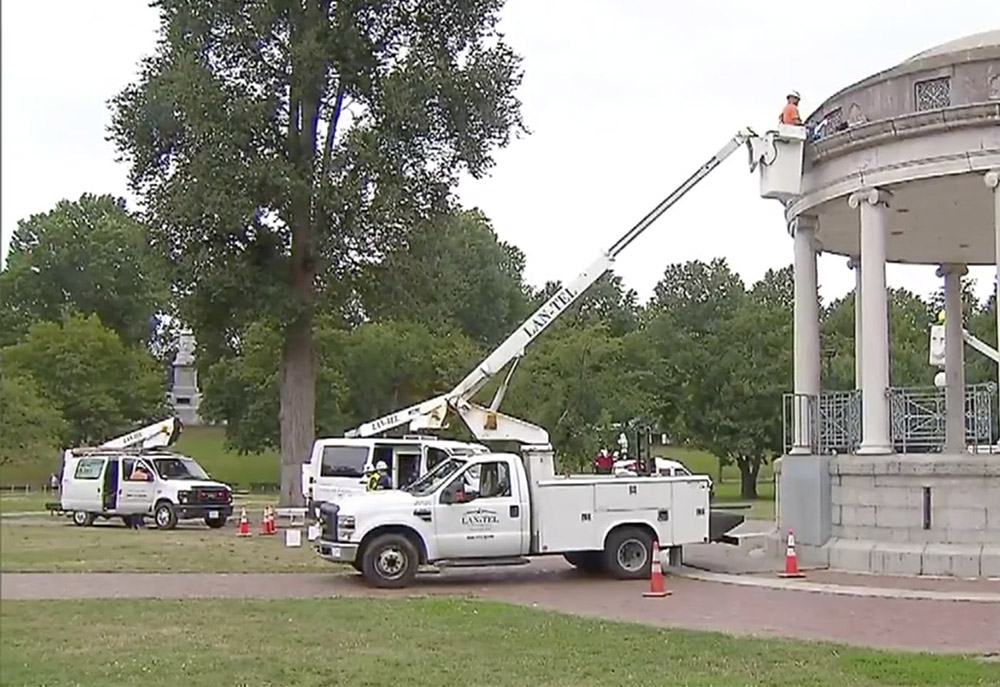 By 5 a.m. the next morning, LAN-TEL's crew of IBEW Local 103 certified technicians were on site at the Boston Common installing cameras at the rotunda where speeches would occur. Within four hours, the installation of security cameras was complete, addressing the city's immediate need for heightened security at the event where public safety was a serious concern.
LAN-TEL is the often called-upon security system provider for the city and surrounding areas, having installed hundreds of video cameras throughout Greater Boston, and integrating them into the city's central intelligence headquarters. Among the numerous special event security installations LAN-TEL has provided for the city and the BPD are dozens of camera installations for the Boston Marathon along the 26-mile route from Hopkinton to Boston, and for the St. Patrick's Day Parade in South Boston. In June, the company was called upon to install numerous video cameras along the Boston waterfront for the 2017 Sail Boston event, which drew an estimated 3 to 4 million visitors.
To enhance LAN-TEL's ability and capacity to provide the rapid response required for immediate security needs, the company houses prefabrication facilities, both in their Norwood headquarters and South Boston office. In the prefab department's special IP Lab, technicians efficiently customize security cameras and switches to precise specifications for the BPD, and other clients. All security cameras undergo thorough pre-testing prior to being delivered and installed on site.
Project manager Eric Johnson heads LAN-TEL's security projects and manages the company's field crew that services the Public Safety Sector. Commenting on the increasing security demands in Boston, and the company's capabilities, Johnson said, "Security at large-scale public events in a major city like Boston is more demanding than ever. Public safety is the primary consideration for the Greater Boston law enforcement community, and LAN-TEL understands when it comes to situational awareness, we must respond expertly and immediately. Video surveillance technology is sophisticated and constantly evolving, requiring teams of professionals that are well-trained and experienced both in the hardware and software technology. To that end, LAN-TEL has ongoing company-wide training and certifications with leading manufacturers in the security industry. Timely material delivery from our vendors is critical to assure we can meet aggressive schedule requirements. And our crews of technicians must provide reliable installations and maintenance of those systems in a variety of field conditions, 24-7, whenever the call comes in."