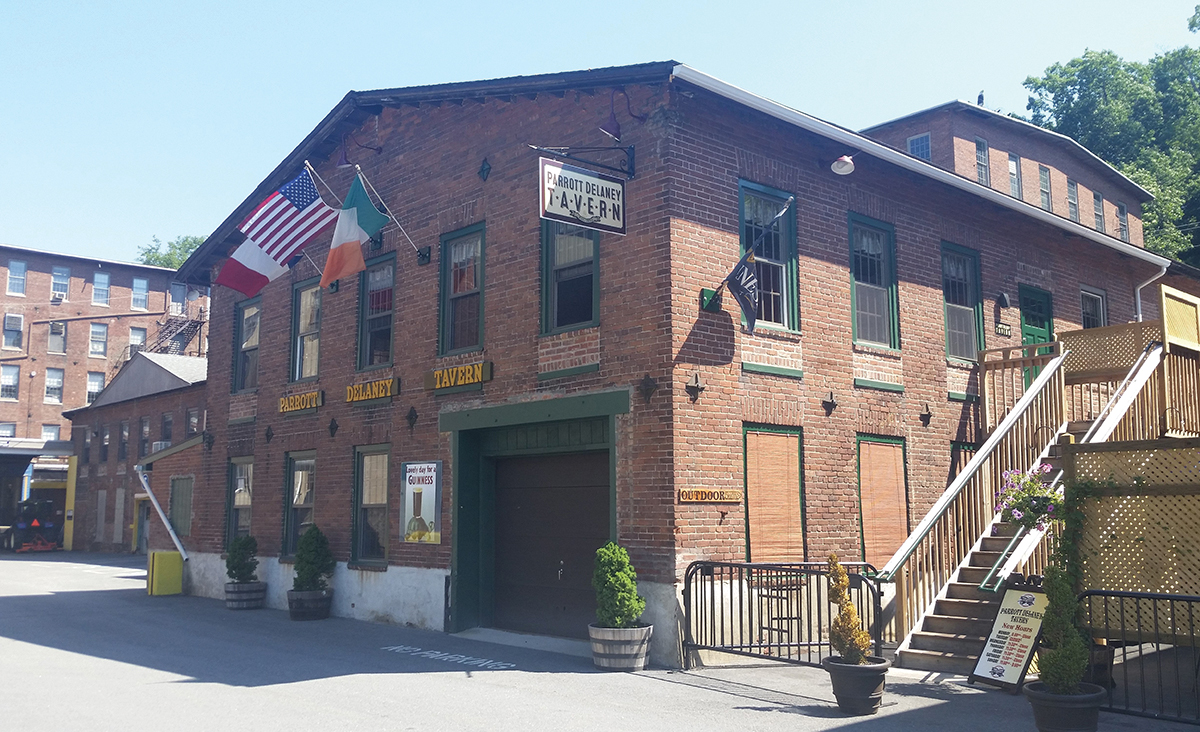 New Hartford, CT The town of New Hartford and the Hurley Business Park are seeking a development partner to improve 15 acres of mixed-use land (commercial/multifamily residential) with access to the Farmington River, a regionally acclaimed fishing destination. The site is located within the village district.
The Hurley Business Park is a historic mill restoration containing 125,000 s/f that includes a mix of retail, restaurant, business offices, artist studios and personal service spaces. Larger tenants include the DW Drum Corporation producing the Ovation Guitar, the Parrott Delaney Tavern - a music themed brew pub, Activate the Space (a visual media systems company), and owner/anchor the original Hurley Manufacturing/Hurley Specialty Companies. Additional tenants in the personal service sector include Iron Horse Strength & Fitness, Lam Yoga, Karma Massage and Hair @ Hurley. Small units feature a mix of local artisans which include quilting and Antique Shoppes. These are mixed between design and marketing professionals in incubator office suites. All totaled the facility is home to 30 businesses with very limited vacancy.
The business park has 12 acres of surplus land that is being offered in conjunction with 3 acres of abutting town owned land, for a total of 15 acres. Together these two parcels have over 2,000 ft. of pristine water frontage on the Farmington River, a federally designated Wild and Scenic River. The Farmington River provides recreational amenities including canoeing, kayaking, tubing, and regionally acclaimed fly fishing supported annually by the David Childs Memorial Fishing Derby.
The site has been given preliminary approvals for up to 150 residential units through the creation of an adaptive re-use zone. Preliminary conceptual drawings show a single three-story building with lower level parking with stunning views of the Farmington River (optional townhouse concepts are also available). The site has access to all public utilities including public water and sewer with ample capacity. The parcels are located within walking distance to the town center, where a variety of services can be found including restaurants, bank, medical/dental and shoppes. The concept plan includes the future development of a pedestrian bridge creating a circular link between the proposed development and the village center. The plan also includes a river view amphitheater for musical and theatrical performances.
New Hartford is primarily a bedroom community for the greater Hartford area. Located 20 miles west of Hartford, New Hartford is bordered by Canton to the east and Torrington to the west. Known for its excellent school system, New Hartford has a population of 7,000 outdoor enthusiasts. New Hartford, home to several reservoirs and vast public land holdings, also provides many hiking and biking opportunities. The Litchfield Hills Triathalon (1.5k swim, 40k bike, 10k run) and a local "Race Around The Lake" (5k) are summer favorites. Outdoor activities continue throughout the winter months at "Ski Sundown," a regional ski area located within three miles of the development site. The town also is home to two local wineries that operate year round.
Over the past two years New Hartford has seen great growth commercially with 40 new businesses welcomed to the town. Beyond Hurley, other success stories include the redevelopment of Waring Park Plaza, by PNL Companies who has leased over 25,000 s/f of retail space highlighted by Brewery Legitimus, DBA Dance and Northwest Gymnastics. This consists of the bulk of the remaining retail space in New Hartford. This growth fueled development of roughly 70,000 s/f of newly constructed commercial space in 2016, including automotive service and self-storage units. Approved pending projects in 2017 include a Dunkin' Donuts restaurant facility, a new gas station/convenience store and another 10,000 s/f of industrial space.
With abundant open spaces and great places, New Hartford is known as a "town for all seasons." Residents have a passion for outdoor living. Fishing, hiking, biking, skiing and music are a way of life here. Be a part of New Hartford. Contact First Selectman Dan Jerram for more information at djerram@town.new-hartford.ct.us.