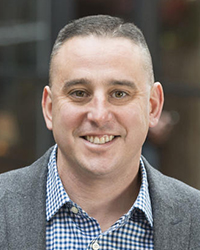 Michael Sanchez, Shawmut Design and Construction
Boston, MA Shawmut Design and Construction has promoted Michael Sanchez to chief of construction operations. In this innovative role, Sanchez will spearhead new leading-edge building technology programs while reinforcing tried-and-true technical building fundamentals with Shawmut teams nationwide.
As chief of construction operations, Sanchez will oversee processes across all of Shawmut's eight offices and divisions. He will combine both traditional methods and leading-edge technologies to work with division executives, ensuring the project teams have the necessary training, disciplined consistency, and resources to become the best-in-class builders in the industry.
"I am thrilled to have the opportunity to create and take part in initiatives that will arm Shawmut employees with the skills needed to exceed our clients' expectations," said Sanchez.
The creation of the chief of construction operations role is part of newly-appointed CEO Les Hiscoe's goal to hone technical excellence and develop top talent, which will help enhance and solidify the firm's reputation for exceptional client service.
"Michael was a natural fit for this new position—during his 23 years at Shawmut, most recently as vice president of field operations, he has exemplified our dedication to top-of-the-line results," said Les Hiscoe, Shawmut chief executive officer. "He has already presented programs that will help us execute outstanding technical work in the most efficient way possible."  
Shawmut Design and Construction is a $1.2 billion national construction management firm with a reputation for completing extremely complex and logistically challenging projects for the most high-profile clients in the industry. As an ESOP (employee-owned) company, Shawmut has created a culture of ownership, proactive solution-making, and forward thinking. Eighty percent of its business comes from repeat clients proving there is a strong focus on building lasting partnerships. Shawmut's unique business model allows project teams to better service clients by focusing their specialized expertise within one of the following areas: academic, tenant interiors, cultural & historic, healthcare & life sciences, hotel, restaurant, retail, and sports venues. Shawmut has offices located in Boston, Providence, New York, Miami, Las Vegas, and Los Angeles.