Walpole, MA Vantage Builders, Inc. renovated Middlesex Savings Bank's newest branch location, at 657 Main St. The branch, the bank's first outside its traditional retail footprint in MetroWest, features an open floorplan. The open environment is enhanced by the installation of frameless glass doors and luxury lighting, while high-end millwork and floor finishes provide a more classic financial institution aesthetic.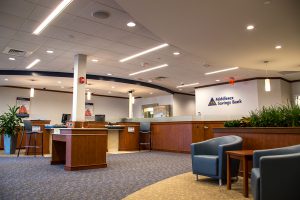 Middlesex Savings Bank, 657 Main Street - Walpole, MA
Following designs by Margulies Perruzzi Architects, Vantage performed a complete interior renovation to create the functional, modern bank branch. The 3,500 s/f project is the firm's third renovation for the bank.
Engineering services were provided by AKF Group LLC. Vantage Builders has also completed renovations for Middlesex Savings Bank at branches in Concord and Hopkinton. 
"Middlesex Savings' Bank's philosophy has always been that banking is built on relationships," said Sarah Connors, Walpole branch manager. "In each of our new branches, we've created an atmosphere that is welcoming, almost like meeting in someone's living room. This puts customers more at ease and helps us develop a better connection, which in turn enables us to better serve their needs."
The branch does not have tellers. Customers are met by banking specialists who can assist with any banking need, from opening accounts to making deposits or withdrawals. Several tall desks are available for specialists and customers to meet, if needed.
The open environment was even extended to outside the branch. Vantage Builders retrofitted the parking lot ATM kiosk to allow a bank specialist to service drive-up customers, utilizing a new, underground pneumatic tube piping system connecting to the branch.