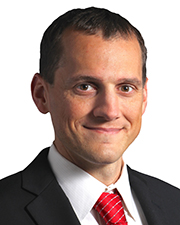 What recent project, transaction or accomplishment are you most proud of? Having only recently started at Dakota I can't take much credit for the projects and transactions that I jumped into in the middle of the process. However, I am very proud of all the work my team has put into getting three projects to closing in the last four months. These have been challenging projects and the team has really come together to tackle issues head-on with a lot of creativity and tenacity. I look forward to being a part of the continued growth of our team.
What does it take to succeed in your specific industry? The affordable housing space has always attracted people that like a challenge. Given the current economic environment, the industry is facing challenges on multiple fronts including rising/uncertain construction costs and increasing interest rates. The firms and people that have historically been successful are able to embrace challenges presented and offer unique solutions to keep their projects moving forward.
What are the top 3 items on your bucket list?
Traveling with my family, visiting as many National Parks as possible
Running the Boston Marathon
Buying a cabin on a lake somewhere in the Northeast
What are you doing when you aren't working? Chasing around three young, energetic kids