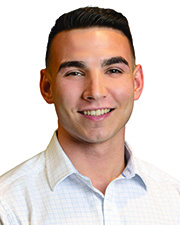 What recent project, transaction or accomplishment are you most proud of? A recent accomplishment I am most proud of is my internal transition from Vantage Builders' estimating department to a business development role. I am now leading the firm's business development efforts in the life science/ biotech sector. It's been an exciting move and I've enjoyed the challenge of learning about the business from a different perspective.
What does it take to succeed in your specific industry? Success in commercial construction is very reliant on relationships, transparency and communication. Each project is unique and you need to approach each one, and the people involved, differently. Particularly during the past two years, we've been very diligent in over-communicating to our clients and the members of the project team on how things are going – whether that's lead times, manpower, schedules or budget. This has been particularly critical during the past 24-36 months.
What are the top 3 items on your bucket list?
Master my golf skills and get a better grasp of the game
Run a marathon
Learn to speak Portuguese
What are you doing when you aren't working? I love to travel. When I'm on vacation, especially in cities outside the U.S., I like to check out the local architecture, infrastructure and attractions. It's interesting to think about how a certain building, tower or tunnel was built in that specific environment.